Back to Archaeological Sites
Paranthropus boisei - Nutcracker man
Paranthropus boisei
or
Australopithecus boisei
was an early hominin, described as the largest of the
Paranthropus
genus (robust australopithecines). It lived in Eastern Africa during the Pleistocene epoch from about 2.3 until about 1.2 million years ago.
First discovered by anthropologist Mary Leakey on July 17, 1959, at Olduvai Gorge, Tanzania, the well-preserved cranium (nicknamed 'Nutcracker Man') was dated to 1.75 million years old and had characteristics distinctive of the robust australopithecines. Mary and her husband Louis Leakey classified the find as
Zinjanthropus boisei
: 'Zinj' for the medieval East African region of Zanj, 'anthropus' meaning 'man' (human); and 'boisei' for Charles Boise, the anthropologists' team's benefactor.
Paranthropus boisei
(as the species was eventually categorised) proved to be a treasure especially when the anthropologists' son Richard Leakey considered it to be the first hominin species to use stone tools. Another skull was unearthed in 1969 by Richard at Koobi Fora near the Lake Turkana region, in Kenya.
The brain volume is quite small, about 500 and 550 cm
3
, not much larger in comparison to
Australopithecus afarensis
and
Australopithecus africanus
, or modern day chimpanzees. Unlike the
P. robustus
, the
P. boisei
feature a much shorter foramen magnum. Additionally the cranial variation of
P. boisei
is remarkably high. The average adult males were larger than females (sexual dimorphism), as was the case in virtually all australopithecine species. Males weighed 49 kg (108 lb) and stood 1.37 m (4 ft 6 in) tall, while females weighed 34 kg (75 lb) and stood 1.24 m (4 ft 1 in) tall.
It had a skull highly specialised for heavy chewing and several traits seen in modern day gorillas.
P. boisei
inhabited savannah woodland territories. The back molar teeth were relatively large, with an area over twice as great as is found in modern humans. The species is sometimes referred to as 'Nutcracker Man' because it has the biggest, flattest cheek teeth and the thickest enamel of any known hominin.
Paranthropus boisei
had large chewing muscles accompanied by a strong sagittal crest. Due to the fact that their face is so wide
P. boisei
also featured enormous cheek teeth, four times the size of modern humans. Although they have such enormous molar and cheek teeth the frontal teeth are much smaller than similar species.
Text above: Wikipedia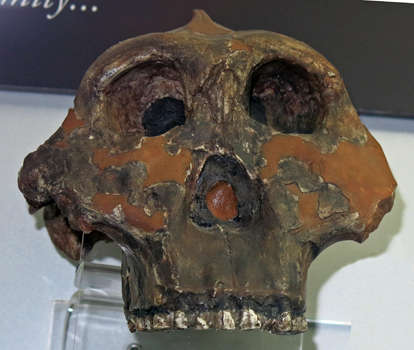 Paranthropus boisei

OH 5 (cranium)
Olduvai Gorge, Tanzania
1.8 million years BP
Discovered by M.D. Leakey, 1959
Facsimile

Photo: Don Hitchcock 2013
Source and text: Western Australian Museum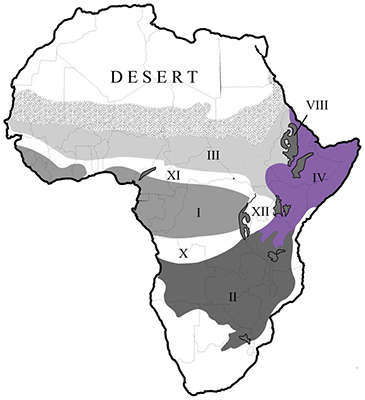 Map of Africa showing the phytogeographical zones, with the Paranthropus boisei range in purple.

The phytogeographical zone IV (Somalia-Masai steppe and shrubland) was occupied byParanthropus boiseiand is now occupied by the Papio cynocephalus population used in this study.

I Guineo- Congolian humid forest
II Zambezian miombo woodland
III Sudanian woodland
V Somalia-Masai steppe and shrubland
X–XII transition mosaic of forest/savanna/woodland
VIII Afromontane domain

The location of the A. bahrelghazali sites in Chad falls outside these recognised zones (stippled). Hence, no attempt was made to more accurately assess the possible dietary ecology of this species. doi:10.1371/journal.pone.0084942.g001

Photo and text: Macho (2014)
Permission: © 2014 Gabriele Macho. This is an open-access article distributed under the terms of the Creative Commons Attribution License.
Dating of the fossil
South African fossils of this type are often very difficult indeed to date accurately since typically they lie in cave ground layers which have been disturbed (or contaminated) by other sediments which have either washed in, or have been eroded from the roof.
But in the case of the type specimen, OH 5, which was discovered in 1959 by Mary Leakey at Olduvai, we got lucky. It was found surrounded by layers of volcanic sediment, which allowed scientists, in 1960, not long after its discovery, to reliably and accurately date the fossil to 1.75 million years ago, using the potassium-argon method, newly invented by Garniss H. Curtis and his team. By dating the volcanic rock both above and below a specimen, a precise date could be determined.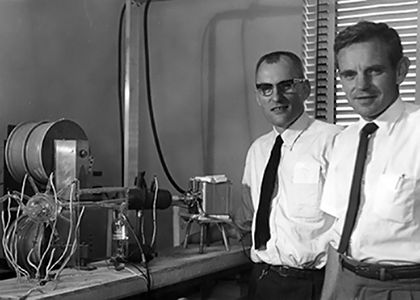 Garniss Curtis (right) and Jack Evernden with a mass spectrometer they used to determine the age of rocks, ca. 1960. Photo by J. Hampel/UC Berkeley.

Geologist Garniss H. Curtis, a professor emeritus of earth and planetary science at the University of California, Berkeley, was a pioneer of the use of radioactive isotopes to date relatively young rocks to provide the first solid timeline for human evolution.

Curtis collaborated with late UC Berkeley professors John Reynolds, a physicist, and Jack Evernden, a seismologist, to take advantage of the radioactive decay of potassium into argon in volcanic rock to determine how long ago the rock formed. Using this potassium-argon method, they established precise dates for recent geologic time periods that allowed Curtis to assign dates to fossilised human remains and prove they were much older than once thought.
Reynolds developed a precise way to date meteorites in the 1950s, but it was Garniss who adapted the technique to work on geological problems.

Since the late 19th century, radioactive isotopes such as uranium and potassium have been used to date billion-year-old rocks, but dating 'young' rocks (on the geological timescale) was a challenge because the radioactive decay products in such rocks are present in minuscule quantities. Using then-new ultra high vacuum systems combined with mass spectrometry, UC Berkeley researchers were finally able to count these atoms and provide precise dates on young rocks.

'Garniss was the first to show that you could date things younger than a couple of million years, and he teamed up with the Leakeys to date their finds in Olduvai gorge in Kenya,' said Curtis's former student Paul Renne, now director of the Berkeley Geochronology Center, which Curtis founded. 'His major contribution was putting numbers on the timescale of human evolution.'

'This work formed the quantitative ground work for paleoanthropology and human evolutionary history by providing a set of 'clocks' with which to read and hence interpret past events in proper sequence,' wrote geologist George Brimhall in a 1989 letter recommending Curtis for a Berkeley Citation, an honour bestowed by the chancellor for distinguished or extraordinary service to the university.

Photo and text above adapted from http://news.berkeley.edu/2013/02/26/garniss-curtis-pioneer-of-precision-fossil-dating-has-died-at-93garniss-curtis-pioneer-of-radioactive-dating-has-died-at-93/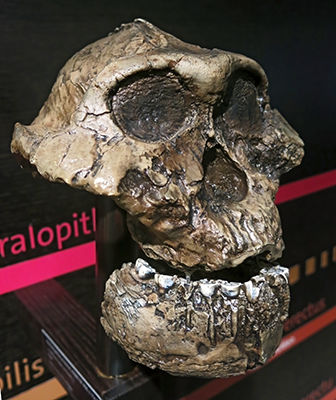 Australopithecus boisei, KNM-ER 406, L7a-125

Koobi Fora, Kenya, Omo, Ethiopia

( note that this valuable facsimile includes the mandible, which is not present on other facsimiles of this particular find, shown further down this page - Don )

Koobi Fora refers primarily to a region around Koobi Fora Ridge, located on the eastern shore of Lake Turkana. The ridge itself is an outcrop of mainly Pliocene/Pleistocene sediments. It is composed of claystones, siltstones, and sandstones that preserve numerous fossils of terrestrial mammals, including early hominin species. Presently, the ridge is being eroded into a badlands terrain by a series of ephemeral rivers that drain into the northeast portion of modern Lake Turkana. In 1968 Richard Leakey established the Koobi Fora Base Camp on a large sandspit projecting into the lake near the ridge, which he called the Koobi Fora Spit.

A subsequent survey and numerous excavations at multiple sites established the region as a source of hominin fossils shedding light on the evolution of man over the previous 4.2 million years. Far exceeding the number of hominin fossils are the non-hominin fossils which give a detailed view of the fauna and flora as far back as the Miocene.
KNM-ER 406 is a nearly complete adult male Paranthropus boisei. It has the facial and cranial features typical of the species such as massive cheek teeth, and the widely flaring zygomatic arches with a forward placed connection to the other facial bones, and large cheek bones supported powerful chewing muscles - the latter two features giving it a 'dish-shaped' face. Other muscles extended from his jaw to the sagittal crest at the top of his head. The cranial capacity of this skull has been estimated at 510 cc.

Catalog: Australopithecus boisei, KNM-ER 406, L7a-125
Photo: Don Hitchcock 2015
Source and text: Facsimile, LVR-LandesMuseum Bonn, Germany
Additional text: Wikipedia, http://humanorigins.si.edu/evidence/human-fossils/fossils/knm-er-406
Corms eaten by Paranthropus boisei, forming a major part of their diet:
Abstract from
Macho (2014)
Hominins are generally considered eclectic omnivores like baboons, but recent isotope studies call into question the generalist status of some hominins.
Paranthropus boisei
and
Australopithecus bahrelghazali
derived 75%–80% of their tissues' δ
13
C from C
4
sources, i.e. mainly low-quality foods like grasses and sedges. Here I consider the energetics of
Paranthropus boisei
and the nutritional value of
Paranthropus boisei
foods, taking into account scaling issues between the volume of food consumed and body mass, and
Paranthropus boisei
's food preference as inferred from dento-cranial morphology. Underlying the models are empirical data for
Papio cynocephalus
dietary ecology.
Paranthropus boisei
only needed to spend some 37%–42% of its daily feeding time (conservative estimate) on C
4
sources to meet 80% of its daily requirements of calories, and all its requirements for protein.
The energetic requirements of 2 - 4 times the basal metabolic rate (BMR) common to mammals could therefore have been met within a 6-hour feeding/foraging day. The findings highlight the high nutritional yield of many C
4
foods eaten by baboons (and presumably hominins), explain the evolutionary success of
Paranthropus boisei
, and indicate that
Paranthropus boisei
was probably a generalist like other hominins. The diet proposed is consistent with the species' derived morphology and unique microwear textures. Finally, the results highlight the importance of baboon/hominin hand in food acquisition and preparation.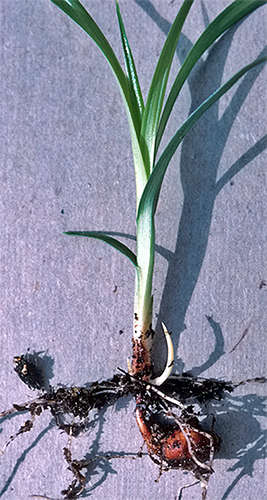 Corms eaten by Paranthropus boisei.

Cyperus esculentus (or chufa sedge, nut grass, yellow nutsedge, tigernut sedge, or earth almond) is a crop of the sedge family native to warm temperate to subtropical regions of the Northern Hemisphere.

It can be found wild, as a weed or as a crop. It has been cultivated since the fourth millennium BC in Egypt, and for several centuries in Southern Europe. Nowadays it is often cultivated for its edible tubers (tigernuts), mainly in Spain for the preparation of the milky beverage Horchata de chufa. But in many countries Cyperus esculentus is considered a weed and it is underused.

Photo: Dr Stanley Kays, http://www.uga.edu/rootandtubercrops/English/photographs/
Text: adapted from Wikipedia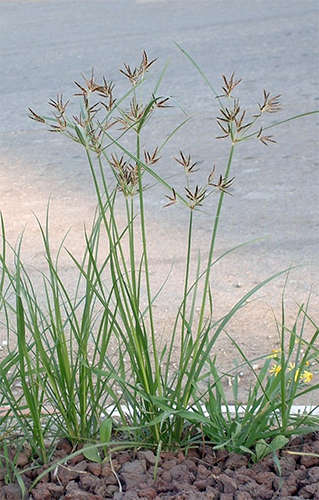 Corms eaten by Paranthropus boisei.

Cyperus rotundus (coco-grass, Java grass, nut grass, purple nut sedge, red nut sedge, Khmer kravanh chruk) is a species of sedge (Cyperaceae) native to Africa, southern and central Europe (north to France and Austria), and southern Asia.

Cyperus rotundus is a perennial plant, that may reach a height of up to 140 cm (55 inches). The names 'nut grass' and 'nut sedge' (shared with the related species Cyperus esculentus) are derived from its tubers, that somewhat resemble nuts, although botanically they have nothing to do with nuts.

Photo: Rickjpelleg
Permission: Creative Commons Attribution-Share Alike 3.0 Unported license. Text: adapted from Wikipedia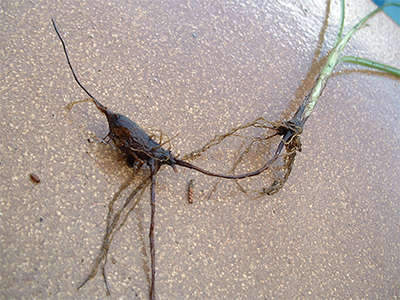 Corms eaten by Paranthropus boisei

Cyperus rotundus - as in other Cyperaceae, the leaves sprout in ranks of three from the base of the plant, around 5–20 cm long. The flower stems have a triangular cross-section. The flower is bisexual and has three stamina and a three-stigma carpel, with the flower head have 3-8 unequal rays. The fruit is a three-angled achene.

The root system of a young plant initially forms white, fleshy rhizomes, up to 25 mm in dimension, in chains. Some rhizomes grow upward in the soil, then form a bulb-like structure from which new shoots and roots grow, and from the new roots, new rhizomes grow. Other rhizomes grow horizontally or downward, and form dark reddish-brown tubers or chains of tubers.

It prefers dry conditions, but will tolerate moist soils, it often grows in wastelands and in crop fields.

Photo: Rickjpelleg
Permission: Creative Commons Attribution 2.5 Generic license Text: adapted from Wikipedia
Discussion:
(adapted from
Macho (2014)
)
Both macro- and microwear patterns of
Paranthropus boisei
teeth support propositions that
Paranthropus boisei
included a large proportion of corms in its diet. Corms are rich in starches (up to 50%), which are highly abrasive in unheated state and vary in size [
C. esculentus
: 3–12 mm;
C. rotundus
: 30–110 mm ].
Starches are not broken down mechanically, but chemically, through the interaction with amylase contained within saliva; lengthy oral processing would facilitate this process. Unsurprisingly, the rates of wear of Amboseli baboons correlate with corm consumption.
The thick enamel of
Paranthropus boisei
teeth is almost certainly an adaptation to wear resistance, while the flatly worn tooth surfaces bear direct witness to the milling process, which results in 'polished' wear surfaces. It is not necessary to invoke agents other than starches to account for
Paranthropus boisei
's unique macro- and microwear patterns. Repetitive chewing (rather than high bite forces) would have been advantageous, and has been inferred on the basis of the species' musculature and its unique temporo-mandibular joint morphology that emphasises lateral pterygoid muscle pull, i.e. the transverse movement of the mandible. Although all baboons eat and prefer corms, sometimes in considerable quantities, they vary the intake on an inter-annual basis.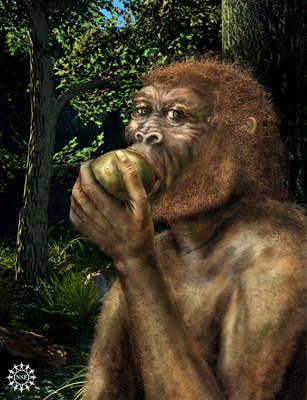 Paranthropus boisei may have been a fruit eater, despite the large and strong teeth which it possessed.

Researchers in 2008 examined the teeth of Paranthropus boisei, also called the 'Nutcracker Man', an ancient hominin that lived between 2.3 and 1.2 million years ago. The 'Nutcracker Man' had the biggest, flattest cheek teeth and the thickest enamel of any known human ancestor and was thought to have a regular diet of nuts and seeds or roots and tubers. But analysis of scratches on the teeth and other tooth wear reveal the pattern of eating for the 'Nutcracker Man' was more consistent with modern-day fruit-eating animals.

(Other researchers have more recently (2011) suggested that the hominin had a diet rich in grasses, herbs and forbs, which would account for the large and strong teeth. Analysis of the Carbon isotopes in the tooth enamel indicates that this is the case - Don )

Photo and text: http://www.sflorg.com/sciencenews/scn043008_02.html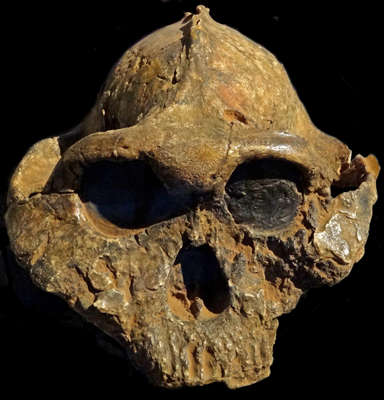 Paranthropus boisei

The skull of Paranthropus boisei, known as KNM ER 406, photographed at the Nairobi National Museum in August 2012.

Photo: Bjørn Christian Tørrissen
Permission: Creative Commons Attribution-Share Alike 3.0 Unported license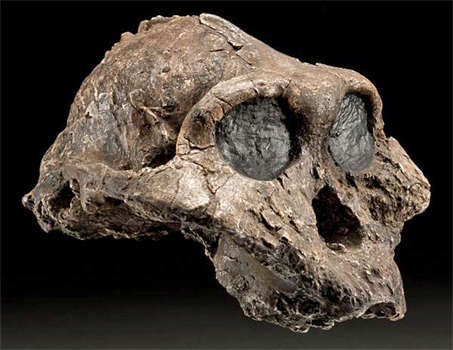 Paranthropus boisei

KNM-ER 406 is a nearly complete adult male Paranthropus boisei. It has the facial and cranial features typical of the species such as massive cheek teeth, and the widely flaring zygomatic arches with a forward placed connection to the other facial bones, and large cheek bones supported powerful chewing muscles - the latter two features giving it a "dish-shaped" face. Other muscles extended from his jaw to the sagittal crest at the top of his head. The cranial capacity of this skull has been estimated at 510 cubic centimetres.

P. boisei commonly ate fruit and other soft foods. But these early humans were also able to crush and grind tough plant foods during difficult times.

Photo: © Chip Clark, Smithsonian Institution
Source: http://humanorigins.si.edu/evidence/human-fossils/fossils/knm-er-406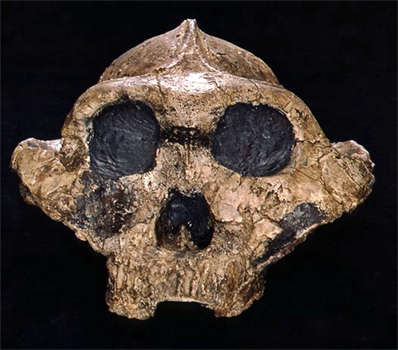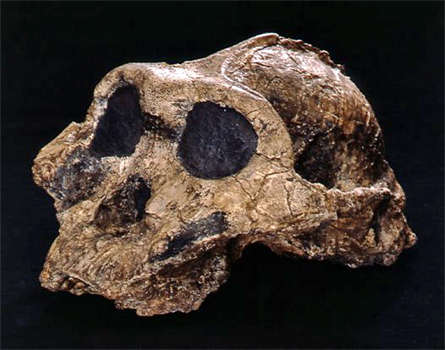 Cast of KMN-ER 406

Almost complete skull of Paranthropus boisei. Features include sagittal and nuchal crests, a well-developed mastoid process, and a broad face. Brain size was around 510 cm3

Photo: © Australian Museum, http://australianmuseum.net.au/image/Skull-cast-of-Paranthropus-boisei/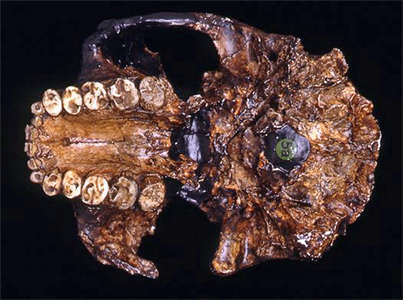 Underside of skull of Paranthropus boisei

Cast of Paranthropus boisei OH 5 Type specimen. Found in Olduvai Gorge, Tanzania in 1959.

The jaw clearly shows that the front teeth (incisors and canines) were very small compared with the extremely large molar teeth. The molar teeth were very effective for crushing and grinding tough plant foods

Photo: © http://australianmuseum.net.au/image/Underside-of-skull-of-Paranthropus-boisei/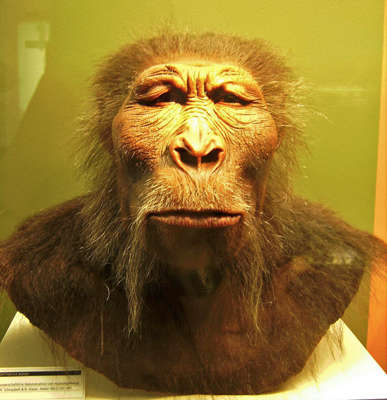 Reconstruction of Paranthropus boisei

Photo: Lillyundfreya
Permission: Creative Commons Attribution-Share Alike 3.0 Unported license
Source: Photographed at Westfälisches Museum für Archäologie, Herne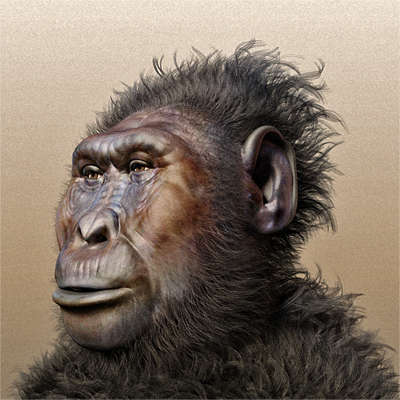 Reconstruction of Paranthropus boisei

Photo: Cicero Moraes
Permission: Creative Commons Attribution-Share Alike 3.0 Unported license
3D scanning of the skull: Dr. Moacir Elias Santos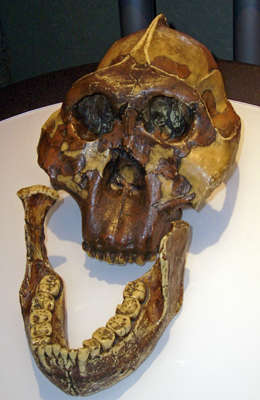 Replica Paranthropus boisei skull. Cast from originals.

Skull discovered by Mary Leakey, Olduvai Gorge, Tanzania, in 1959 - 1.75 million years old.

Jaw discovered by Kamoya Kimeu in 1964 - 1.5 million years old.

Photo: Durova
Permission: GNU Free Documentation License, Version 1.2
Source: Museum of Man, San Diego, California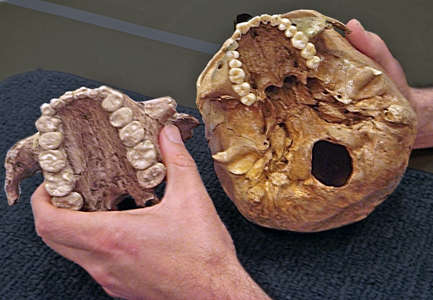 Paranthropus boisei teeth on the left, modern human teeth on the right.

Nutcracker Man' had the biggest, flattest cheek teeth and the thickest enamel of any known human ancestor and was thought to have a regular diet of nuts and seeds or roots and tubers. But analysis of scratches on the teeth and other tooth wear reveal the pattern of eating was more consistent with modern-day fruit-eating animals.

Tiny marks on the teeth of an ancient human ancestor known as the 'Nutcracker Man' may upset current evolutionary understanding of early hominid diet. Using high-powered microscopes, researchers looked at rough geometric shapes on the teeth of several Nutcracker Man specimens and determined that their structure alone was not enough to predict diet.

Peter Ungar, professor of anthropology at the University of Arkansas in Fayetteville, contends the finding shows evolutionary adaptation for eating may have been based on scarcity rather than on an animal's regular diet.

'These findings totally run counter to what people have been saying for the last half a century,' says Ungar. 'We have to sit back and re-evaluate what we once thought.'

Ungar and his colleagues, Frederick E. Grine of State University of New York at Stony Brook and Mark F. Teaford of Johns Hopkins University, Baltimore, Md., reported their findings last week in the Public Library of Science One, a peer-reviewed, international, online journal. The research was funded in part by the National Science Foundation.

The researchers examined the teeth of Paranthropus boisei, an ancient hominin that lived between 2.3 and 1.2 million years ago and is known popularly as the 'Nutcracker Man' because it has the biggest, flattest cheek teeth and the thickest enamel of any known human ancestor.

'Ungar and colleagues' work on Paranthropus boisei diet is extremely important,' says Joanna Lambert, physical anthropology program director at NSF. 'Understanding what and how early hominins ate sheds light not only onto the feeding biology of our fossil ancestors, but also onto the very evolution of our own species.'

Scientists long have believed that Paranthropus boisei fed on nuts and seeds or roots and tubers found in the savannas throughout eastern Africa because the teeth, cranium and mandible appear to be built for chewing and crunching hard objects.

But Ungar points out that the teeth only suggest 'what Paranthropus boisei could eat, but not necessarily what it did eat.'

Anthropologists have traditionally inferred the diet of ancient human ancestors by looking at the size and shape of the teeth and jaws. However, by using powerful microscopes to look at the patterns of wear on a tooth, scientists can get direct evidence of what the species actually ate.

Since food interacts with teeth, it leaves behind telltale signs that can be measured. Hard foods like nuts and seeds, for instance, lead to more complex tooth profiles, while tough foods like leaves lead to more parallel scratches. Researchers compared dental microwear profiles of Paranthropus boiseito modern-day primates that eat different types of foods. Paranthropus boiseiteeth were compared to those of the Old World Monkey species grey-cheeked mangabeys, and the New World Monkey species brown capuchin monkeys - both of these species consume mostly soft items but fall back on hard nuts or palm fronds.

Old World monkeys are found today in South and East Asia, the Middle East, Africa and Gibraltar at the southern tip of Spain. New World monkeys are found in tropical forest environments in southern Mexico, Central and South America. Paranthropus boiseidental profiles also were compared to the New World mantled howling monkey and Old World silvered leaf monkey, which eat mostly leaves. Researchers also compared them to some of Paranthropus boisei's more contemporary counterparts - Australopithecus africanus, which lived between 3.3 million and 2.3 million years ago, and Paranthropus robustus, which lived between 2 million and 1.5 million years ago.

The findings showed that Paranthropus boisei teeth had light wear, suggesting that none of the individuals ate extremely hard or tough foods in the days leading up to death. The pattern was more consistent with modern-day fruit-eating animals than with most modern-day primates. 'It looks more like they were eating Jell-O,' Ungar said.

This finding, while contradictory to previous speculation on the diet of Paranthropus boisei, is in line with a paradox documented in fish. Liem's Paradox states that animals may actively avoid eating the very foods they have developed adaptations for when they can find other food sources. It appears the paradox may hold true for Paranthropus boisei and for some modern-day primates as well.

'If you give a gorilla a choice of eating fruit or a leaf, it will take the fruit every time,' Ungar says. 'But if you look at a gorilla's skull, its sharp teeth are adapted to consuming tough leaves. They don't eat the leaves unless they have to.' Accordingly, the finding represents a fundamental shift in the way researchers look at the diets of early human ancestors.

'For many years, the perspective has been that the very large teeth and thick dental enamel of Paranthropus boisei were adaptations to consuming very hard food types year-round,' says Lambert. 'Such specialization has historically been viewed as a potential cause for this fossil species' extinction. The research team demonstrated that such generalizations require careful re-thinking, and that Paranthropus boisei was a more flexible feeder than has classically been viewed. This challenges the fundamental assumptions of why such specializations occur in nature,' Ungar says. 'It shows that animals can develop an extreme degree of specialization without the specialized object becoming a preferred resource.'

Source: NSF, 2008

(Other researchers have more recently (2011) suggested that the hominin had a diet rich in grasses, herbs and forbs, which would account for the large and strong teeth. Analysis of the Carbon isotopes in the tooth enamel indicates that this is the case - Don )

Photo and text: http://www.sflorg.com/sciencenews/scn043008_02.html

References
Breuil, H., 1979: Beyond the Bounds of History, Scenes from the Old Stone Age, Gawthorn, 1979, reprinted from the edition of 1949, London.
Macho, G., 2014: Baboon Feeding Ecology Informs the Dietary Niche of Paranthropus boisei, PLoS ONE, 9(1): e84942. doi:10.1371/journal.pone.0084942
---

Back to Archaeological Sites