Pech Merle
Pech Merle is one of the few prehistoric cave painting sites in France which remain open to the general public. Extending for more than a mile from the entrance are caverns the walls of which are painted with dramatic murals dating from the Gravettian culture (some 25 000 years BP) Some of the paintings and engravings, however, could date from the later Magdalenian era (16 000 years BP). This area once had a great river flowing through it, cutting underground channels which were later used by humans for shelter and eventually for mural painting. The walls of seven of the chambers at Pech Merle have fresh, lifelike images of a woolly mammoth, spotted horses, bovids, reindeer, handprints, and some human figures. Footprints of children, preserved in what was once clay, have been found more than a kilometre underground. Within a ten kilometre radius of the site are ten other caves with prehistoric art of the Upper Palaeolithic period, but none of these are open to the public. During the Ice Age the caves were very probably used as places of refuge by prehistoric peoples when the area had an Arctic climate, very cold temperatures, and native animal species very different from those of the present day. It is supposed that, at some point in the past, mudslides covered the cave entrances providing an airtight seal until the 20th century. The cave at Pech Merle has been open to the public since 1926. Visiting groups are limited in size and number so as not to destroy the delicate artwork with the excessive humidity, heat and carbon dioxide produced by breathing.
Text above from Wikipedia.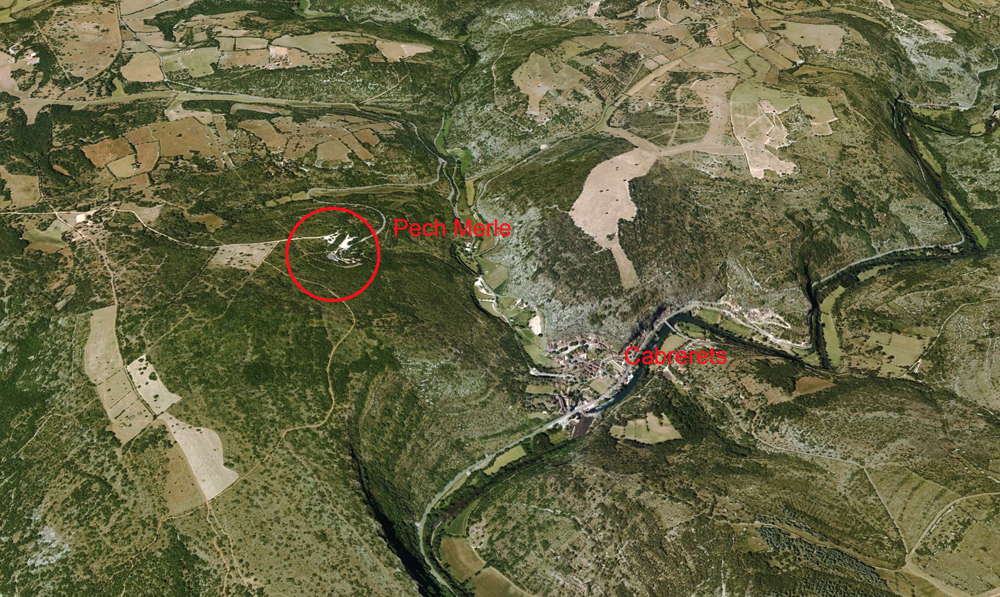 Peche Merle site and the nearby village of Cabrerets.

Photo: Google Earth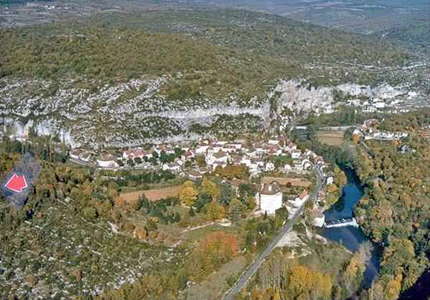 Cabrerets and the Pech Merle site. Note the white limestone evident throughout the area.

Pech Merle is a cave in the south of France in the Department called Lot. (Quercy is the pre-Napoleonic name of the province, still in popular use.) It is at an elevation of 280m on the eastern side of the hill called Pech Merle.

Pech Merle was discovered in 1922 by two teenagers, André David and Henri Dutertre, when they were 16 and 15 years old respectively. The examination of the paintings and engravings was immediately begun by Father Amédée Lemozi, the priest of Cabrerets. The galleries of the cave are on average 10 m wide and the height of the ceilings is about 5 to 10 m. There are two levels of the cave, but there are only paintings on the first level. 300 m of the walls are painted.

Photo: http://www.quercy.net/pechmerle/english/introduction.html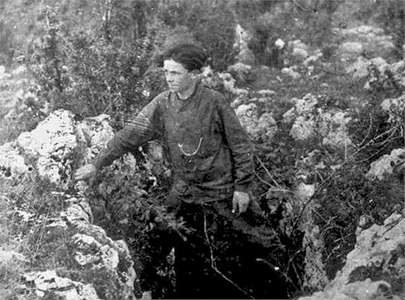 One of the two discoverers of the cave, André David.

Photo: http://www.pechmerle.com/english/introduction.html
Why is it called 'Pech Merle'? In the lower third of France is a southern Latin culture called langue d'oc or occitan. Pech is the french writing of the occitan word puèg which means a hill. We pronounce it as in "fresh". It appears in the name of many localities, written pech, puech, pioch, pey, and you can read it on the signs of the regional roads. In old french, the word is puy, as in "Puy de Dome". Merle is sometimes translated as blackbird, so we can think of the name as Blackbird Hill.
Text above: http://www.quercy.net/pechmerle/english/introduction.html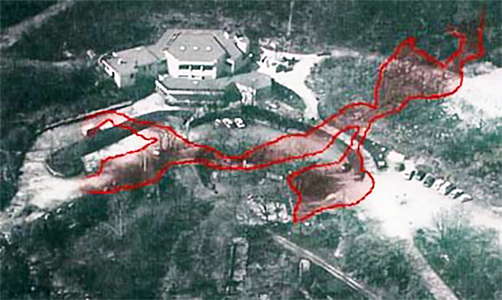 Photo of the surface of the site with superimposed plan of the cave.

Photo: http://vm.kemsu.ru/en/palaeolith/pesh-merl.html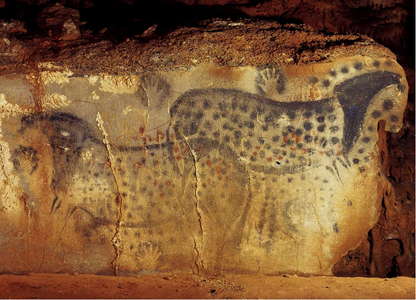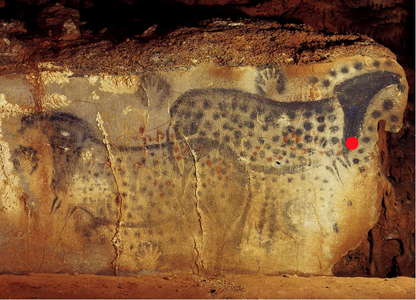 Painted horses, Peche Merle

In 1995 Michel Lorblanchet studied some samples of black colour from the "dotted horses" painting of the Pech Merle cave in the paper Lorblanchet (1996)

They found a mixture made mostly with manganese and barium oxides. Some very scarce samples contained a little bit of charcoal. Amongst about 20 samples, only one (in the area indicated by the red dot) contained enough charcoal to be able to be dated to about 25 000 BP (radiocarbon dating by Mme Hélène Valladas, CNRS laboratory in Gif sur Yvette, Essone, close to Paris).

Photo: http://www.slideshare.net/extremecraft/01-paleolithic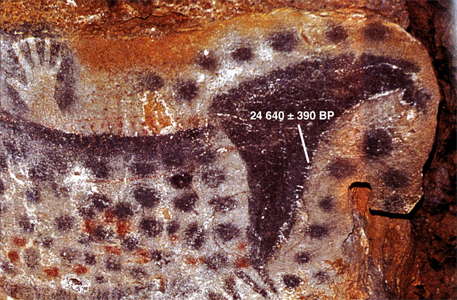 Spotted horse on the right surrounded by black dots and handprints. The pigments of the chest of the horse have been dated to 24 640 &plusmn 390 BP

Photo: © SRA Midi-Pyrénées et Lorblanchet 1995
Source: Jaubert (2008)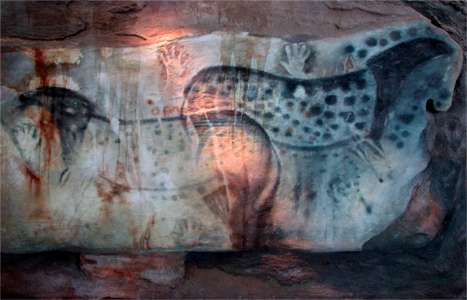 Painting of horses and hands from the Pech Merle cave. Gravettien. Replica in the Brno museum Anthropos.

Photo: HTO

Permission: 22 May 2009 - Public domain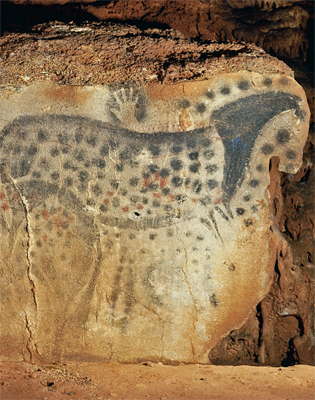 Pech Merle horse.

Photo: http://www.pearsonhighered.com/assets/hip/us/hip_us_pearsonhighered/samplechapter/0205790917.pdf
---
Pech Merle horses really were spotted, scientists say
The horses in the Pech Merle cave in southern France, painted during the Earth's last Ice Age around 25,000 BCE, have long had a special fascination for anthropologists, mainly because of their mysterious spots. The black markings, which some scientists believe were painted using a spitting technique, cover the entire flank and neck of one of the two horses, while fainter spots can be seen on the other. Until now, scientists only had DNA evidence of monochrome horses - mainly bay and black - living in Europe in that period, and had therefore assumed that the spots had a shamanistic or spiritual significance – or were simply the artistic license of an imaginative caveman.
But new DNA evidence gathered and analyzed by an international team of researchers has found that spotted horses did indeed exist in Europe in what is known as the Upper Paleolithic period, 50 000 to 10 000 years ago. According to the findings published on Monday in the Proceedings of the National Academy of Sciences, ancient artists were simply drawing what they saw around them.
The team - which included scientists from Britain, Germany, Mexico, the United States, Spain and Russia - was led by Melanie Pruvost of the Department of Evolutionary Genetics at the Leibniz Institute for Zoo and Wildlife Research (IZW) and the Department of Natural Sciences at the German Archaeological Institute in Berlin. 'We had a project on the domestication of the horse, and were looking at this particular color variation in pre-domesticated horses,' Arne Ludwig, one of the German researchers, told Deutsche Welle. 'Then an American scientist came up to me at a conference in Leipzig and said, 'Do you know that we have identified the genetic mutation for spotted horses?' So, since we knew about the Pech Merle paintings, we looked for evidence of that mutation from that time.'
By analyzing bones and teeth of 31 horses in Siberia and Europe dating back as many as 35 000 years, researchers found that six shared a gene associated with a type of leopard spotting seen in some modern horses. Archeologists believe that horses were only domesticated about 6 000 years ago, which means that the horses depicted in Pech Merle were hunted, not bred. 'We assume that the people who did these cave paintings were horse-hunters,' said Ludwig. 'They needed to be able to observe their environment very precisely. Their whole culture was practically based on hunting horses, because horses were the most common large mammals at the time.'
Patrick Skinner, archeologist at Cambridge University, says the findings reinforce current theories of how humans interacted and perceived animals at the time. 'The characteristics of the animals were very important for how the Upper Paleolithic people interacted with them,' he told Deutsche Welle. 'So the new evidence reinforces the idea that they aren't just painting animals for the sake of painting animals. It's their idiosyncratic behaviors that make them important.' It is difficult to judge how common the spotted horses were, based on the handful of samples tested, but Ludwig thinks the percentages suggest they were 'not rare.' This is also a new insight, since many researchers had considered a spotted coat unlikely for Paleolithic horses.
The ability to genotype Stone Age animals is a relatively new tool for archeologists, and the team behind the discovery are confident that, as more and more genetic codes are identified, we will soon know much more about the appearance of these animals. French archeologist Jean Clottes, president of the International Federation of Rock Art Organizations, is convinced that the new discovery does nothing to damage the spiritual dimension of the cave art, or the creative reputation of the Stone Age artist. He points out that spots depicted on the Pech Merle horses also appear above and below the animals, not just on them - so, he argues, they must have had another meaning too. 'This does not change our perceptions at all,' he told Deutsche Welle. 'It's interesting, because it shows that the Pech Merle horses were not a figment of the imagination. Fine, but this works for those two horses, and that's it. We've known for a hundred years and more that these people painted animals which existed.' Ludwig agrees. 'There's no way you could rule out that these spots generally have a ritual, shamanistic or religious value for the people in those days,' he says. 'But that's just speculation. All we can say now as geneticists is that these horses existed then.' 'The discovery doesn't prove anything for or against any interpretation,' adds Clottes. 'There are hundreds of cave paintings and the majority of the animals represented are naturalistic, and this is another example. So what? But there are also what we call composite animals - for example, a head of a horse with horns. These are fantastical.'
But Ludwig also notes that it is striking how the proportions of tan and spotted horses match the numbers depicted in cave art. 'The types of horse that were painted the most – the brown ones – were also the genomes we found most often,' he said. 'Even if it's a small sample, it does fit.'
Text: Ben Knight
Editor: Cyrus Farivar
Source: http://www.dw.de/pech-merle-horses-really-were-spotted-scientists-say/a-15517588
---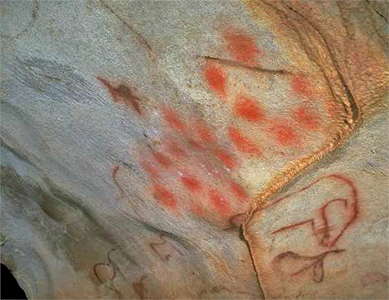 These red dots on the wall are accompanied by other drawings in a darker red.

Photo: Errede (2013)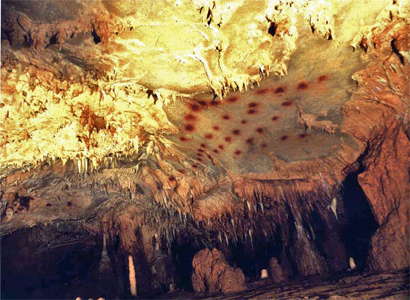 Dots on the ceiling at Pech Merle.

Photo: Errede (2013)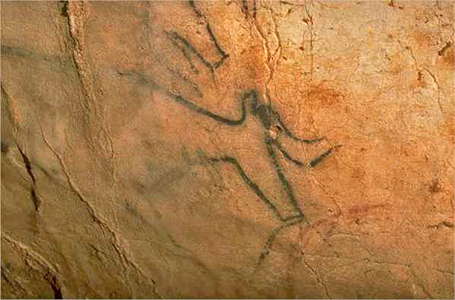 Aurochs drawn in black.

Photo: Errede (2013)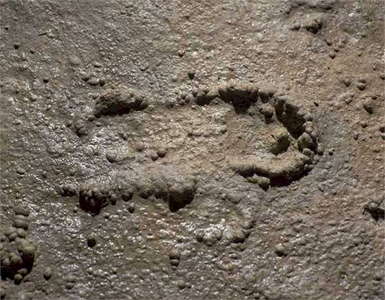 Footprint of a child, Pech Merle.

Photo: © David Jaggard
Source: http://www.paris-update.com/fr/hot-topics/cest-ironique/21454-beyond-the-peripherique-art-appreciation-10001-bc-in-the-caves-of-southwestern-france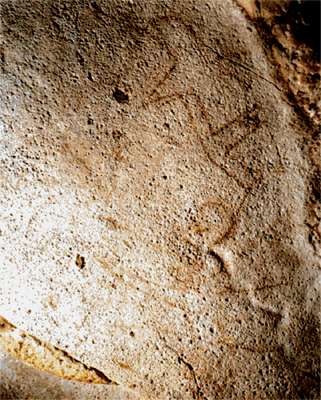 "Placard Sign" and speared man in the cave of Pech Merle.

Photo: Bahn and Vertut (1997)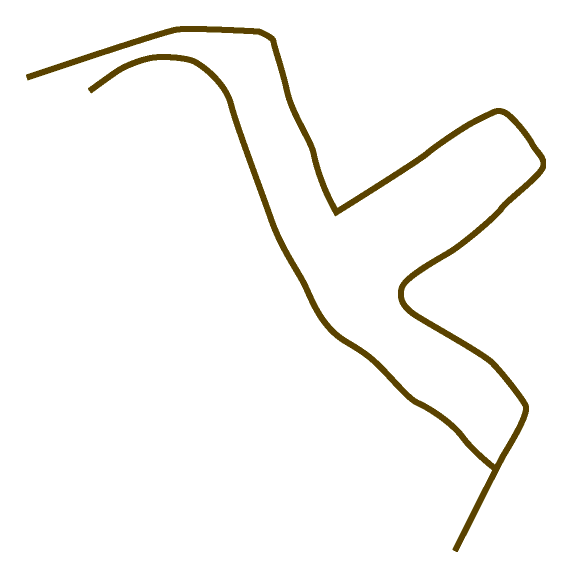 Placard Sign from Pech Merle redrawn. Note the bird like shape of this sign. These signs occur in eleven painted forms at Cougnac, three times at Pech Merle, and as seven engraved forms at Grotte du Placard. They are possibly Solutrean - Bahn and Vertut (1997)

Photo: Redrawn by Don Hitchcock after Bahn and Vertut (1997)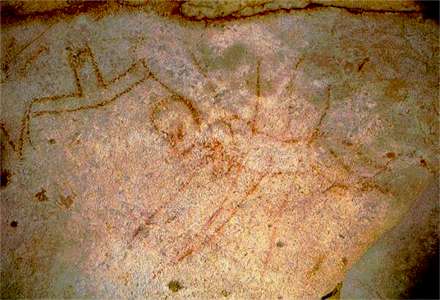 Type Placard sign and a man wounded by several spears, in red ochre. Height 75 cm, from Grotte du Pech-Merle, Lot. Probably from the Solutrean.

Photo: Michel Lorblanchet, via http://ma.prehistoire.free.fr/signe_au_pm.htm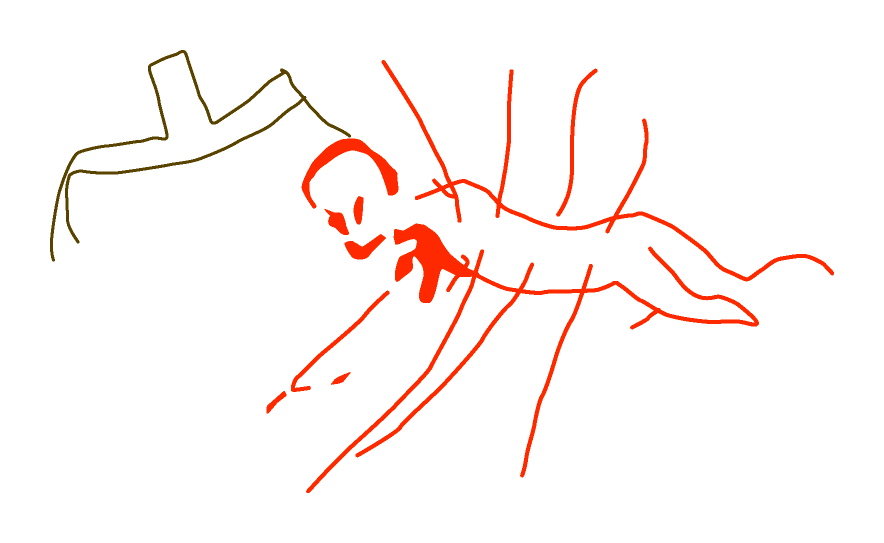 Type Placard sign and a man wounded by several spears, in red ochre. Height 75 cm, from Grotte du Pech-Merle, Lot. Probably from the Solutrean, showing the outline of the "le Placard" sign and the man wounded with spears.

Photo: Redrawn by Don Hitchcock after Michel Lorblanchet, via http://ma.prehistoire.free.fr/signe_au_pm.htm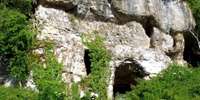 La grotte du Placard is a decorated cave in the commune of Vilhonneur in Charante, 30 km east of Angoulême. It has been extensively researched and has levels dating from the Middle and Upper Paleolithic, especially the Magdalenian and Solutrean. A dozen aviform signs identical to those discovered in the caves of Pech Merle and Cougnac. Similar signs were found in the Cosquer Cave near Marseille, 500 km away. The figures date back about 20 000 years to the Solutrean. The signs are known as Placard type signs. The cave is not accessible to the public.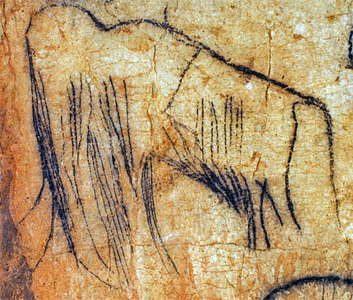 Mammoth at Pech-Merle, part of the wall known as the black frieze.

Pech-Merle (Lot), détail de la frise noire. Mammouth.

Photo: Agenda de la Préhistoire 2002 - 2003, a superb diary with excellent illustrations sent to me by Anya. My thanks as always.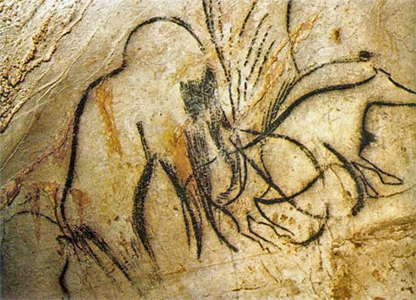 Mammoth and aurochs.

Photo: Errede (2013)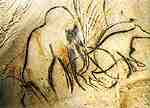 Painting of a mammoth in black. An attempt has been made to indicate the beast's characteristic long heavy coat, and the domed head is clearly shown. The original is about 31.5 inches long.

Photo: Man before history by John Waechter



A hand stencil on the wall at Pech Merle

Photo: Man before history by John Waechter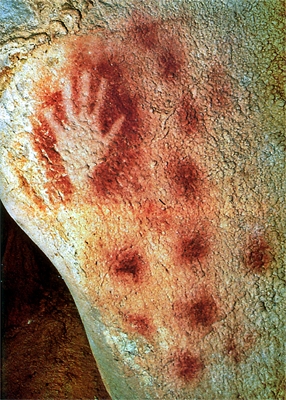 Another version of the hand stencil above on the wall at Pech Merle

Photo: Wikimedia Commons, Public Domain.
Other caves close by, but not open to the public include:
Le Cuzoul des Brasconies, La grotte Carriot, La grotte Christian, La grotte des Faux-Monnayeurs, La grotte du Cantal, Le Cuzoul de Mélaniev, La grotte Marcenac, La grotte de Sainte Eulalie, La grotte du Papetier, La grotte du Moulin, La grotte de la Bigourdane, La grotte de Pergouset.
See: http://www.quercy.net/pechmerle/lot_cele_fr.html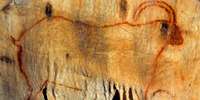 The Grottes de Cougnac caves are near Gourdon, Lot, about 40 km from Pech Merle. The site consists of two caves separated by 200 metres. The first contains many concretions, some very fine, called soda straws. The second is a decorated cave from the Paleolithic. The cave has many prehistoric paintings gadted to the upper Paleolithic. Depictions include deer, megaceros, the ibex, and mammoths as well as various schematic human figures. The paintings corresponded to at least two clearly distinct phases: one around 25 000 BP, the other about 14 000 years before the present.
References
Bahn P., Vertut J., 1997: Journey through the ice age University of California Press
Errede D., 2013: Pre-Historic Music and Art in Palæolithic Caves Acoustical Physics of Music/Physics of Musical Instruments UIUC Physics 193/406
Jaubert, J., 2008: L'art pariétal gravettien en France : éléments pour un bilan chronologique », Paléo, 20 | 2008, 439-474.
Lorblanchet M., 1996: Quercy, pigments des grottes ornées, Bilan scientifique 1995 (SRA DRAC Midi-Pyrénées), p.152-155.
---