Genyornis, an extinct giant bird from the Australian Ice Age
---
Genyornis was a large, flightless bird that lived in Australia until 50 thousand years ago. Many species became extinct in Australia around that time, coinciding with the arrival of humans. It is not clear to what degree they were carnivores. The massive, crushing beaks of at least of some species suggest that they were a combination of predators and scavengers, much like today's hyenas. Their closest living relatives are waterfowl. Genyornis declined and became extinct over a short period of time — too short for it to be plausibly explained by climate change. In May 2010, archaeologists announced the rediscovery of an Aboriginal rock art painting, possibly 40 000 years old, that depicts two of the birds in detail.
---
Megafauna cave painting could be 40 000 years old
By Emma Masters
ABC News - http://www.abc.net.au/news/stories/2010/05/31/2913350.htm?section=justin
Updated Mon May 31, 2010 1:05pm AEST

A red ochre depiction of two emu-like birds with their necks outstretched.

Scientists say an Aboriginal rock art depiction of an extinct giant bird could be Australia's oldest painting. The red ochre painting, which depicts two emu-like birds with their necks outstretched, could date back to the earliest days of settlement on the continent.

It was rediscovered at the centre of the Arnhem Land plateau about two years ago, but archaeologists first visited the site a fortnight ago.

Photo: Ben Gunn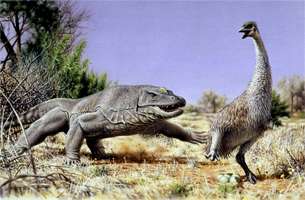 A palaeontologist has confirmed the animals depicted are the megafauna species Genyornis. Archaeologist Ben Gunn said the giant birds became extinct more than 40 000 years ago. "The details on this painting indicate that it was done by someone who knew that animal very well," he said.

He says the detail could not have been passed down through oral storytelling.

Left: Artist's impression: scientists say the Genyornis became extinct more than 40 000 years ago

Photo: Reuters, artist: Peter Trusler
"If it is a Genyornis, and it certainly does have all the features of one, it would be the oldest dated visual painting that we've got in Australia," he said. "Either the painting is 40 000 years old, which is when science thinks Genyornis disappeared, or alternatively the Genyornis lived a lot longer than science has been able to establish."
Mr Gunn says there are paintings of other extinct animals right across the area including the thylacine, or tasmanian tiger, the giant echidna and giant kangaroo. "It does give you a window back to a time that you can pinpoint, and in the case of the Genyornis it's a very long picture," he said.
The traditional owners of the land in the Northern Territory say they are excited the painting could be Australia's oldest dated rock art. The Jawoyn Association's Wes Miller says the painting is one of thousands rediscovered across Arnhem Land in recent years. "It verifies that the Jawoyn people were living in this country for a very, very long time," he said.
"People say it, but once again this is clearly a demonstration of how long Jawoyn people have been in this country and other Indigenous groups. It's great from that point of view. It's pretty exciting stuff."
---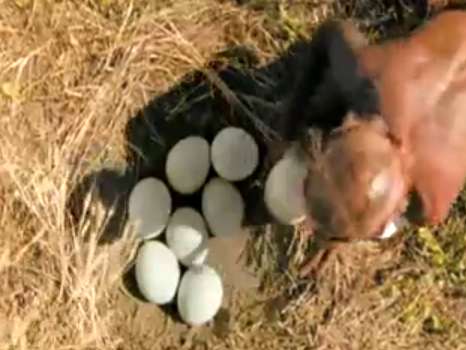 This video shows Australian Aborigines collecting Genyornis eggs, then being chased away not only by the Genyornis female who laid them, but by the largest lizard that ever lived, Megalania prisca - it was 5.5 metres long, weighed 400 kg, and looked like a much larger Komodo Dragon.
---
Genyornis newtoni
Adapted from the Australian Museum website,
http://australianmuseum.net.au/Genyornis-newtoni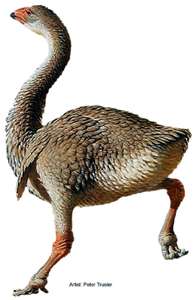 Genyornis newtoni was the last of the large, flightless mihirungs ('thunder birds') endemic to Australia. It was a heavily built bird over 2 metres tall, with tiny wings and massive hind legs. Fossils of Genyornis have been found in association with human artefacts, including cave paintings and carved footprints, and Genyornis must have co-existed with humans for a considerable amount of time (at least 15 000 years).

Mihirungs were large, flightless birds with deep lower jaws, a distinctly shaped quadrate bone (connecting upper and lower jaws), stubby wings, massive hind legs and hoof-like toes. They lacked a keeled sternum (breastbone), a specialization related to the reduction of flight muscles.

Artist: Peter Trusler

Source: The artist and the Australian Postal Corporation, at http://museumvictoria.com.au/melbournemuseum/discoverycentre/dinosaur-walk/meet-the-skeletons/genyornis/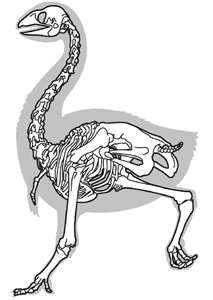 Genyornis was heavily built, but not the largest dromornithid; that distinction goes to the late Miocene Dromornis stirtoni, one of the largest birds known. Although a complete, undamaged skull of Genyornis is yet to be found, it did not have the extreme development of the beak of Dromornis or Bullockornis (the latter known from a complete skull with massive, curved beak). Its wedge-shaped head may have resembled that of a giant Magpie Goose (dromornithids are probably part of the duck/goose group, Anseriformes). The lower jaw of Genyornis was exceptionally deep and heavily ossified, a condition unusual in birds. This suggests that Genyornis required great force along the jaw and tip of the beak in order to break up its food. Genyornis was over two metres tall and would have weighed from 220-240 kilograms.

Photo: The Museum of Victoria, at http://museumvictoria.com.au/melbournemuseum/discoverycentre/dinosaur-walk/meet-the-skeletons/genyornis/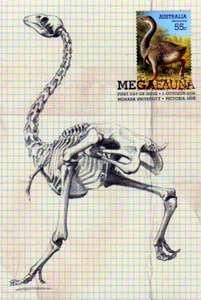 Australia Post had a stamp depicting Genyornis. This is a First Day Cover.

Photo: eBay

Eggshell fragments have been recovered in sand dune deposits. The eggs of Genyornis were large (up to 1.6 kg, almost twice the volume of emu eggs), smooth in texture and less elongate than emu eggs.

Size range

2 - 2.25 m tall

Distribution

Genyornis fossils are known from Lake Callabonna, Baldina Creek, Mt. Gambier, Salt Creek and Naracoorte Caves in South Australia, and from Wellington Caves and Cuddie Springs in New South Wales. Eggshell fragments have been found in dune deposits in South Australia and footprints, possibly those of Genyornis, have been found in Pleistocene dunes in southern Victoria.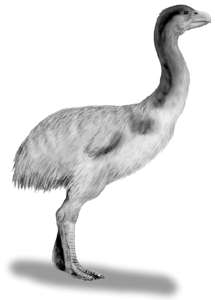 Habitat

Genyornis had a wide distribution in a variety of habitats, but seems to have preferred open forest and savannah-grasslands to more the more closed forest habitats preferred by earlier mihirungs. Eggshell fragments have been found in sand dunes, and Genyornis may have used these dunes as nesting sites.

A shift to grasslands and increasing aridification in some areas may have favoured the emu in some regions (e.g., Cuddie Springs), which may then have replaced Genyornis in local faunas.

Photo: Genyornis newtoni, a thunderbird from the pleistocene of Australia, pencil drawing, digital coloring.
Date 9 June 2008
Source: Own work
Author: Nobu Tamura email:nobu.tamura@yahoo.com www.palaeocritti.com
This file is licensed under the Creative Commons Attribution 3.0 Unported license.
Feeding and Diet
The diet of dromornithids has been the subject of much debate. Many palaeontologists are convinced that dromornithids were mainly if not exclusively herbivorous. Dromornithids lack a hooked beak, as in raptors, and have hoof-like rather than recurved claws on their feet. Analysis of eggshells (amino acid analysis) supports an herbivorous diet. Dromornithids are also found in large numbers in some deposits, unlike carnivores which, at the top of the food chain, are generally very rare. A minority view holds that dromornithids were to some degree carnivorous, citing the huge size of the beak ('a case of overdesign').
The diet of Genyornis has not been determined by any direct evidence although it appears to have been herbivorous. Fossils of Genyornis have been found with pebbles (gastroliths) in the gizzard region, which are unknown in carnivores. Gastroliths would have been used to help break up its food, as they do in other herbivorous birds. It is quite possible, given its anatomy and discovery of gastroliths, that Genyornis was herbivorous but the larger Bullockornis and Dromornis had a more varied diet.
Other behaviours and adaptations
Genyornis has sometimes found in large numbers at fossil sites, suggesting that it may have lived in flocks.
Biomechanical studies suggest that dromornithids may have been relatively fast runners. Their massive legs were well muscled, providing the necessary power in spite of their bulk.
Life cycle
The eggs of Genyornis have been found in sand dune deposits, which have also preserved the eggshells of emus. These dunes may have served as breeding grounds for both species. Holes similar to those made by mammalian canine teeth have been found in some Genyornis eggshell fragments. The size of these holes suggests that the predators were either Tasmanian devils or eastern quolls, both of which are known from the dune deposits.
Fossils
Skulls and complete skeletons of Genyornis are known, although unbroken/uncrushed skull material is yet to be recovered. The best material comes from Lake Callabonna in South Australia. Gizzard stones and eggshells have also been recovered.
---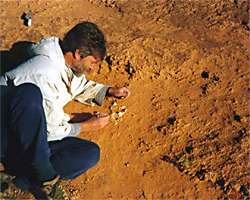 Miller's team has focused on one member of the extinct megafauna, Genyornis newtoni, a large, ostrich-sized bird that inhabited much of the semi-arid zone, nesting in sand hills near inland lakes. The eggshells of this bird are the most ubiquitous and best-preserved Quaternary fossils in the outback.

Miller's group has now analyzed fossil amino acid ratios from more than 1000 Genyornis eggshells from seven different regions of the outback. Eggshell amino acid racemization kinetics have been carefully studied experimentally, and many fossil samples have been independently dated. This lends confidence to the finding that Genyornis disappeared suddenly and synchronously throughout the outback, about 50 000 years ago.

Deposits with Genyornis eggshell often contain the bones of other elements of extinct megafauna, whereas deposits that postdate Genyornis extinction are devoid of these remains, implying that the well-dated Genyornis extinction is representative of Australian megafaunal extinction in general. Although hunting pressures remain a distinct possibility, it is equally likely that systematic burning by early humans disrupted the landscape to the extent that animals with highly specialized diets became extinct, while generalists survived.
Photo above: Gifford Miller examines a Genyornis fossil eggshell in the field in Australia.
Source for Photo and Text in these three paragraphs: http://instaar.colorado.edu/research/highlights.html
---
D. Williams of the School of Biological Sciences, The Flinders University found fossil eggshell fragments from a sand dune near Port Augusta, and attributed them to
Genyornis newtoni
. Shell curvature measurements show that the eggs were larger than those of the Emu, and radiocarbon dates indicate an age in excess of 40 680 BP. Holes pierced through some fragments were attributed to the action of predators.
Abstract from: Genyornis eggshell (Dromornithidae; Aves) from the Late Pleistocene of South Australia,
Alcheringa: An Australasian Journal of Palaeontology
, Volume 5, Issue 2 1981 , pages 133 - 140
---