Back to Archaeological Sites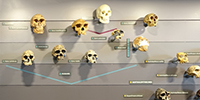 Back to the review of hominins
The Nyayanga Butchery Site in Kenya




The Nyayanga site being excavated in July 2016.

Photo: J.S. Oliver, Homa Peninsula Paleoanthropology Project
Proximal source: www.si.edu/newsdesk/releases/29-million-year-old-butchery-site-reopens-case-who-made-first-stone-tools



Quote below from New Scientist:



Early hominin Paranthropus may have used sophisticated stone tools

Stone tools discovered in Kenya are the oldest Oldowan-type implements found, dating back at least 2.6 million years, and they may have been made by our relative Paranthropus.

A set of stone tools found in Kenya is the oldest of its kind, and one of the oldest known to have been made by ancient hominins. The find adds to the evidence for widespread tool use relatively early in human evolution.

The artefacts were found with two teeth belonging to hominins called Paranthropus. They weren't thought to make tools because their teeth were well-suited to chewing food, but the new find suggests they actually did make and use stone tools.




The finds come from Nyayanga on the north-eastern shore of Lake Victoria in Kenya. Tom Plummer at Queens College, City University of New York first learned of them more than 20 years ago, when he was working at another archaeological dig nearby. There, team member Blasto Onyango at the National Museums of Kenya in Nairobi mentioned a different site with similar tools. 'We surveyed,' says Plummer, 'we saw some material on the surface', but it took until 2015 to begin full excavations.

Photo: A2 - NYAlocS_0123, J.S. Oliver, Homa Peninsula Paleoanthropology Project
Source: National Museum of Natural History, Smithsonian, photo package media release, Feb 9 2023.







The team has since recovered 330 stone artefacts. They include the heavy cores of pebbles, used for pounding, and sharp cutting flakes that had been removed from them. The tools are a type known as Oldowan, named for Olduvai / Oldupai gorge in Tanzania where the first examples were found.

Photo caption: Examples of an Oldowan percussive tool, core and flakes from the Nyayanga site. (Top row) Percussive tool found in 2016. (Second row from top) Oldowan core found in 2017. (Bottom rows) Oldowan flakes found in 2016 and 2017.
Photo: C2 - NY_lithics for press, T.W. Plummer, J.S. Oliver, and E. M. Finestone, Homa Peninsula Paleoanthropology Project
Source: National Museum of Natural History, Smithsonian, photo package media release, Feb 9 2023.




Based on analyses of the sediments in which the Nyayanga tools were found, and the types of fossils found with them, the team estimates they are between just over 3 million and 2.6 million years old. "We think it's in the older end of that range," says Plummer. This would make them the oldest Oldowan tools on record. Previously, the oldest known examples were those from Ledi-Geraru in Ethiopia, which are from 2.6 million years ago.

The Nyayanga tools were used to process a variety of foods, says Rahab Kinyanjui, also at the National Museums of Kenya. The team found bones of hippopotamus-like animals, some of which had cut marks on them, suggesting the tools were used for butchery. The heavier implements were also used to pound plant materials like tubers and fruit.



Text above: www.newscientist.com/article/2358821-early-hominin-paranthropus-may-have-used-sophisticated-stone-tools/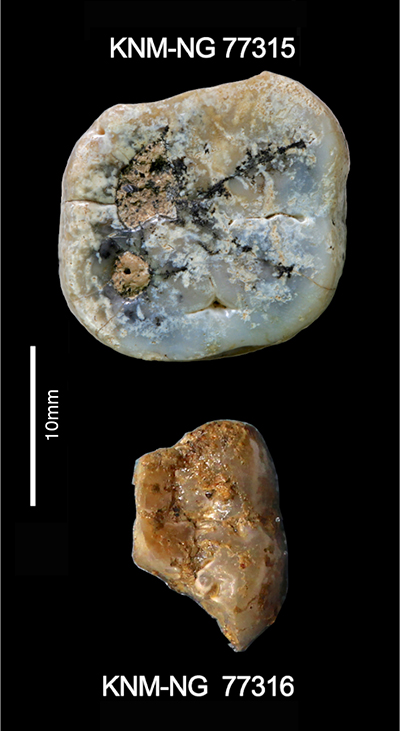 Photo caption: Paranthropus molars recovered from Nyayanga site. Left upper molar (top) was found on the surface at the site, and the left lower molar (bottom) was excavated.

Photo and text: T.W. Plummer, J.S. Oliver, and E. M. Finestone, Homa Peninsula Paleoanthropology Project
Source: National Museum of Natural History, Smithsonian, photo package media release, Feb 9 2023.
References
Plummer, T. et al., 2023: Expanded geographic distribution and dietary strategies of the earliest Oldowan hominins and ParanthropusScience, 9 Feb 2023, Vol 379, Issue 6632, pp. 561-566, DOI: 10.1126/science.abo7452
---

Back to Archaeological Sites