Venus of Renancourt II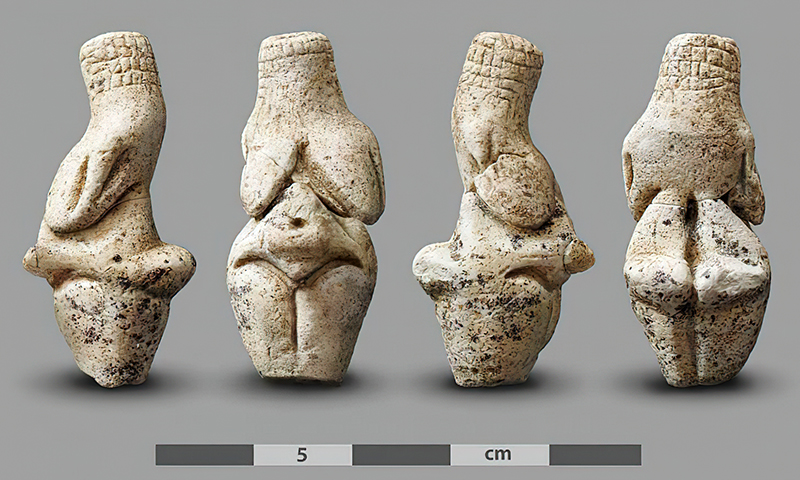 New Palaeolithic Venus discovered in Renancourt, Amiens, July 2019.

Photo: Tous droits réservés Stéphane Lancelot, Inrap
Proximate source: https://fr.euronews.com/2019/12/05/une-nouvelle-venus-du-paleolithique-decouverte-en-france#
The statuette is in good condition, and has been carved in limestone/chalk, 40 mm high. It is estimated to be 23 000 years old, and is from the Gravettian.
The breasts, buttocks and thighs are all of exaggerated volume, as is normal in this tradition.
The director of the excavations is Clément Paris.
The head is featureless, and the hair encloses the face, in a squared pattern.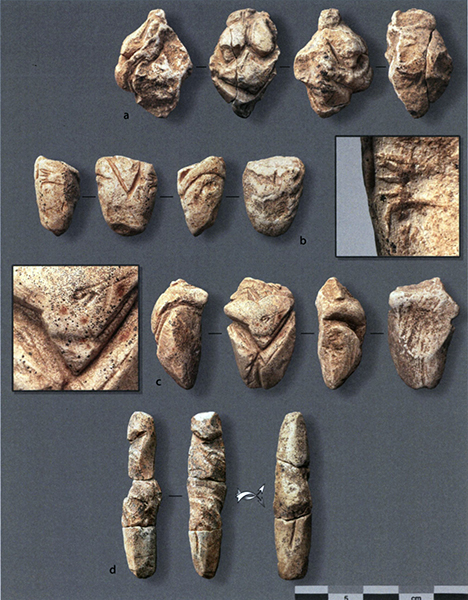 The statuette above is the latest (and by far the best) in a series of 15 statuettes discovered since the start of the dig in 2014 on the Renancourt site in the Amiens region.

The new Venus is the best preserved, and is the only one that has been found whole. It was found four metres below the current ground level, in loess blown by strong winds as the glaciers retreated, just 100 km north of the site.

Text for the image at left, which shows some of the partial venuses discovered at the site:

Amiens-Renancourt 1 (Somme),

a: statuette no. 4393
b: statuette no. 3562
c: statuette no. 3982
d: statuette no. 3241

Photo: S. Lancelot, INRAP

Source: Paris et al. (2017)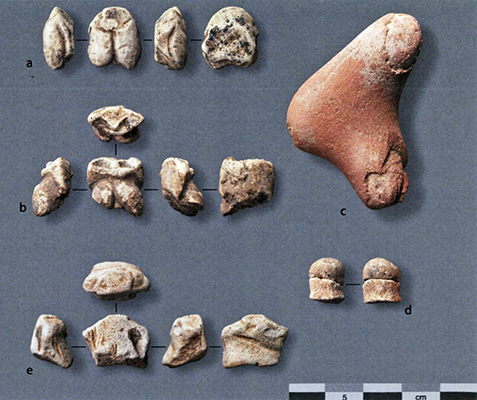 Amiens-Renancourt 1 (Somme)

More venus fragments:

a: statuette no. 783
b: statuette no. 6205
c: lint nodule no. 3488
d: sculpture in the round no. 4615
e: statuette no. 3487

Photo: S. Lancelot, INRAP

Source: Paris et al. (2017)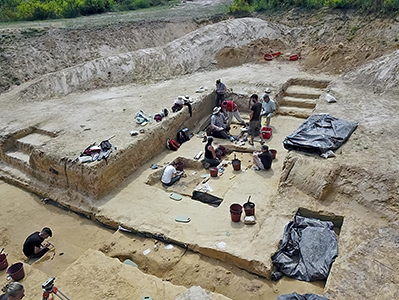 General view of the excavation of the Amiens-Renancourt site.

Since the beginning of the excavation campaign on the Amiens site, about fifteen statuettes have been exhumed. But only the Venus presented this Wednesday is perfectly preserved. 'It is the kind of document that will be found in school textbooks,' added Dominique Garcia, president of Inrap.

Photo: Irwin Leullier, Inrap
Source and text: https://fr.euronews.com/2019/12/05/une-nouvelle-venus-du-paleolithique-decouverte-en-france#
---
Venus of Renancourt I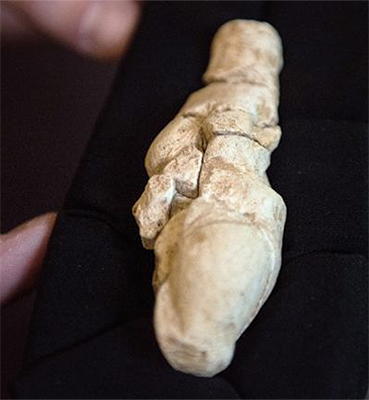 A person points to a 23 000 year-old limestone statue of a woman called the 'Venus of Renancourt' which was found at the palaeolithic site of Renancourt, France, November 27, 2014

Photo and text: 2014 AFP, http://phys.org/news/2014-11-limestone-venus-years-dug-france.html
A limestone statuette of a shapely woman some 23 000 years old has been discovered in northern France in what archaeologists Thursday described as an 'exceptional' find. Archaeologists stumbled on the Palaeolithic-era sculpture during a dig in the summer in Amiens, the first such find in half a century.

'The discovery of this masterpiece is exceptional and internationally significant,' said Nicole Phoyu-Yedid, the head of cultural affairs in the area, on showing the find to the media. 'We were expecting to find classical vestiges such as tooled flint or bones,' said archaeologist Clement Paris.

But on their second day of fieldwork, the team found a pile of limestone that included fragments which did not seem natural. 'That same night we carefully pieced together the 20-odd fragments and realised it was a female statuette,' he added.

14C dating of organic material found at the site showed the statue to be 23 000 years old. About 12 centimetres (4.7 inches) high, it shows a woman with big breasts and buttocks. The head and arms are less detailed. 'The fact that the sculpture is not totally realistic shows the intent was to produce a symbolic image of a woman linked to fecundity' Paris said. Around 100 such figures have been found in Europe, mostly in Russia and central Europe, including around 15 in France, most of them discovered in the southwest.

Text above: © 2014 AFP, http://phys.org/news/2014-11-limestone-venus-years-dug-france.html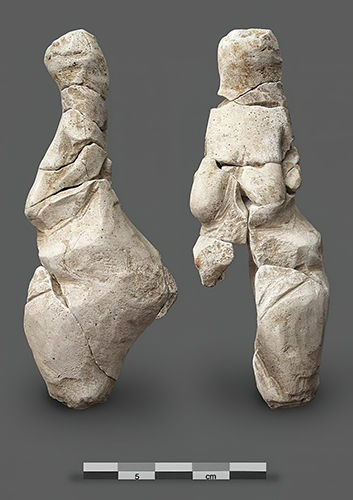 Archaeologists excavating the Renancourt neighbourhood of Amiens in northern France have unearthed a small artefact of large historical significance. It is a limestone statuette of a female figure with exaggerated breasts and buttocks of a type known as a Palaeolithic Venus. She's 23 000 years old, an artefact of the late Gravettian culture found in France and eastern Europe, reaching all the way to western Siberia. About a hundred Gravettian Venuses have been found all over Europe, including 15 examples in southwest France, but this is the first one discovered in the north of France. The last one unearthed in an archeological context in France was found in Tursac, Dordogne, in 1959.

Statuette n° 861

Photo: © Stéphane Lancelot-Inrap
Source: https://fr.euronews.com/2019/12/05/une-nouvelle-venus-du-paleolithique-decouverte-en-france#
Text: http://www.thehistoryblog.com/archives/33610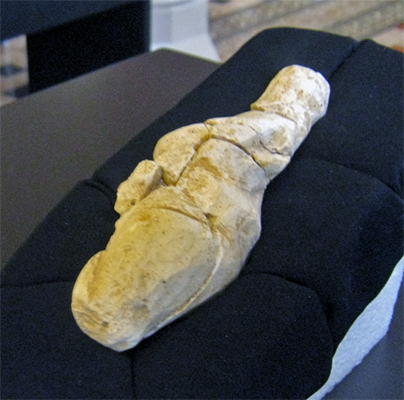 In July of this year, the team was excavating a deposit of aeolian silt (loess) from the end of the last glacial period (40 000 to 10 000 years ago), expecting to find relatively common Palaeolithic remains like flints and animal bones. On the second day of the dig, they found a pile of limestone fragments that didn't seem like natural chips. That night, they were able to puzzle together the 20 fragments to form an almost complete female statuette about 11 centimetres tall. Only the right leg piece is missing. It was carved from a single piece of limestone and archaeologists believe it shattered from the cold.

Photo: http://www.culturecommunication.gouv.fr/Regions/Drac-Picardie/Actualites/Actualites-a-la-une/Decouverte-d-une-statuette-paleolithique-a-Amiens
Text: http://www.thehistoryblog.com/archives/33610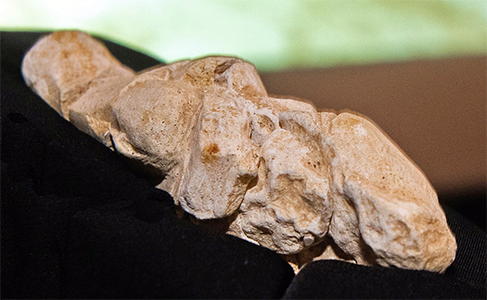 Typical of the 244 Upper Palaeolithic Venuses that have been found from different periods in Europe the secondary sex characteristics are unmistakably prominent, while the head and extremities are barely present. The Venus of Renancourt has a simple rounded shape for a head and roughly engraved arms and legs.

In a space of only nine square metres, archaeologists recovered an abundance of Palaeolithic remains along with the Venus, including flint projectile points used for hunting and large blades used as tools like knives and scrapers. Numerous animal bones attest to horse meat having been on the menu regularly. Chalk jewellery - rounds pierced with a hole - discovered at the site is very unusual and may be unique to this deposit. The remains indicate this was a hunter's camp which radiocarbon dating found to be 23 000 years old, the last phase of the Gravettian period.

Photo and text: http://www.thehistoryblog.com/archives/33610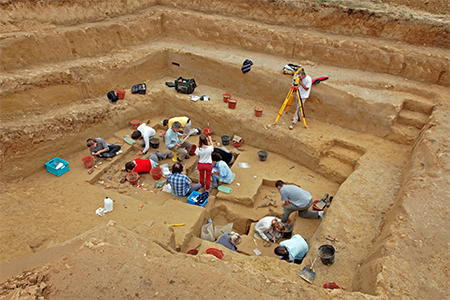 It's not just the Venuses that are rare discoveries in the north of France; evidence of Upper Palaeolithic Cro-Magnon presence is rare because at that time there were still glaciers reaching all the way down to the modern-day Netherlands. This discovery suggests there was a window of warmer temperatures that allowed the Cro-Magnon hunters to travel north over impressively long distances. The Gravettian areas in the southwest of France are 200 - 300 km away. That's a lot of ground to cover on foot during an ice age.

The Venus of Renancourt will be studied thoroughly for the next few months before going on display at Museum of Picardie in Amiens.

Photo: http://www.culturecommunication.gouv.fr/Regions/Drac-Picardie/Actualites/Actualites-a-la-une/Decouverte-d-une-statuette-paleolithique-a-Amiens
Text: http://www.thehistoryblog.com/archives/33610
---
References
Caldwell, D., 2005: Common Features and New Ideas concerning Upper Paleolithic Feminine Imagery Arts and Cultures 2010, Barbier-Mueller Museums
Cook, J., 2013: Ice Age art: arrival of the modern mind, The British Museum, 18 Feb 2013, ISBN-10: 0714123331, ISBN-13: 978-0714123332
Paris, C. et al., 2017: Premières observations sur le gisement gravettien à statuettes féminines d'Amiens- Renancourt 1 (Somme), Bulletin de la Société préhistorique française, JUILLET-SEPTEMBRE 2017, T. 114, No. 3, pp. 423-444, stable URL: https://www.jstor.org/stable/44870344
---