Woman with the Perforated Neck
The Woman with the Perforated Neck, also known as the 'Janus' because the face is depicted on both sides of the flattened figurine, is one of the venuses from the Barma Grande in the Balzi Rossi caves. It is 62 mm long, of dark green steatite. The head is flat and circular, with the eyes and mouth carved on the front and back of the head. There are no forearms, and the breasts are oval-shaped. There is a prominent belly, and the buttocks are flattened. A small open vulva has been carved, and the knees and feet are indistinct or absent. It is perforated through the neck.
Text above adapted from

White et Bisson (1998)
Breuil, in
Delporte (1993)
says of this statuette:
A complete statuette, dark green steatite, perforated in the middle of the neck. Figure visible, but flattened. On the back there is a second face. It comes from the Barma Grande at a depth of 6 metres. It has a height of 69 mm. There is some doubt about the authenticity of the face. The breasts are small, the torso is flat with arms broken off, the stomach or the mons venus projecting, the lower limbs of normal proportions but carelessly done, and as the name suggests, at the neck is a small hole through the figure. The existence of two faces encouraged Luquet to call this the Janus statue.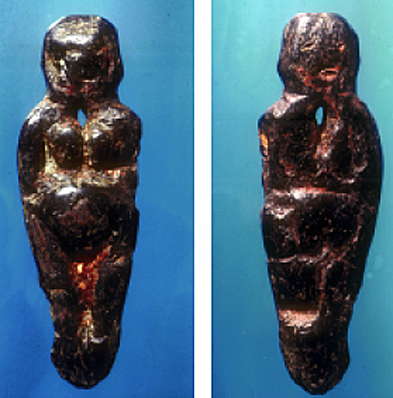 The two faces of the woman with the perforated neck, Grimaldi.

Photo: R. White
Source: White (2002)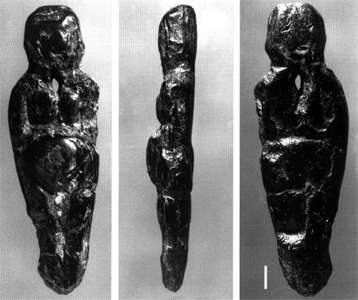 Front Views (left), profile (centre) and rear (right) of the 'Woman with perforated neck.' Note in this picture the clear indications of the height of the buttocks (coll. Peabody Museum, Harvard, Peabody Number: 2004.24.31759.2). Scale: 5 mm

The statuettes of Barma Grande including the Woman with perforated neck are easy to date because Jullien gave information on the origin of some of them in his correspondence and because we have recently obtained radiocarbon dates on bones of the Jullien excavations. The 'Woman with perforated neck' was found 6 m below the surface in a layer containing hearths. This layer, containing tools characteristic of the early Epigravettian with notched tools, is dated to 17 000 ± 180 BP. Photo: R. White

Source: White et Bisson (1998)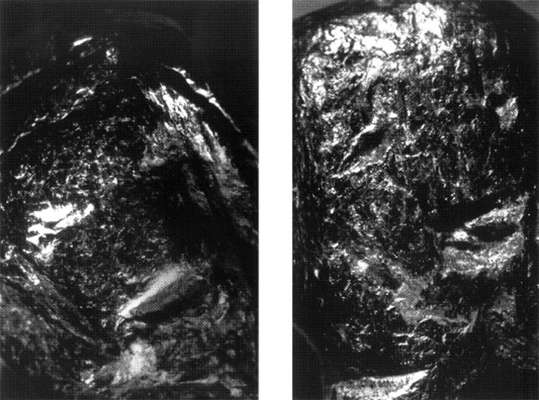 Facial details of 'Woman with the perforated neck' (coll. Peabody Museum, Harvard, photos R. White).



Source: White et Bisson (1998)
References
Bisson M, Bolduc P., 1994: "Previously Undescribed Figurines From the Grimaldi Caves." Current Anthropology, 35(4) (Aug.-Oct. 1994) : 458-468.
Delporte H., 1993: L'image de la femme dans l'art préhistorique, Éd. Picard (1993)
White, R., Bisson M., 1998: Imagerie féminine du Paléolithique : l'apport des nouvelles statuettes de Grimaldi, Gallia préhistoire. Tome 40, 1998. pp. 95-132.
White, R. , 2002: Une nouvelle statuette phallo-féminine paléolithique: 'La venus des Milandes' (commune de Castelnaud-la-Chapelle, Dordogne), Paleo N° 14 Décembre 2002 – Pages 177 à 198