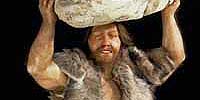 Mousterian (Neanderthal) Sites
Švédův Stůl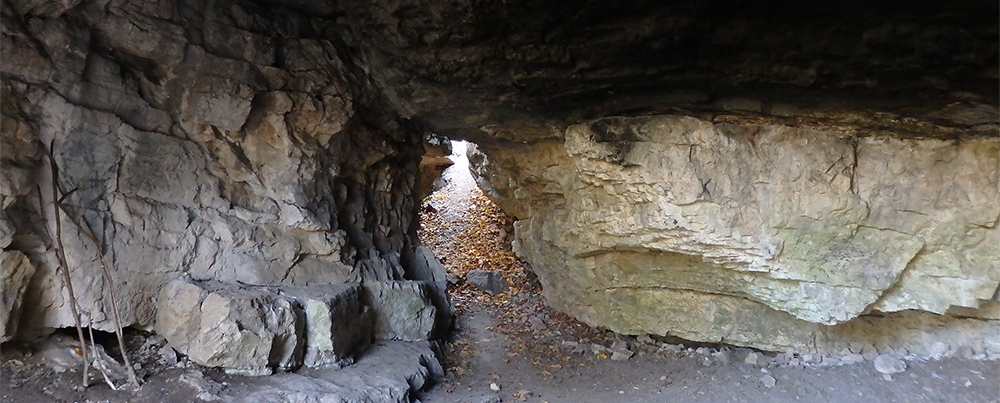 Švédův Stůl Cave

Photo: BíláVrána

Permission: Creative Commons Attribution-Share Alike 4.0 International license
Švédův Stůl Cave is located in the southern part of the Moravian Karst Protected Landscape Area (PLA) in the Říčka Valley near the Ochoz Cave and the Pekárna Cave, 49° 14′ 43.3″ N, 16° 44′ 52″ E. It is a short 'through cave' in a rock block (hence the name Swede's Table). Besides cave bears, hyenas and other animals inhabited the cave as well as Neanderthals 100 000 years ago, as well as a younger culture during the Neolithic and Bronze Age. Archaeological research of the site was conducted by Bohuslav Klíma. The site is approximately 10 km from the city of Brno.
Text above: Wikipedia
Micoquian industries with numerous small hand axes and bifacial knives are characteristic of the whole area of the Lysice basin along the Svitava River from which the Neanderthal people, settled at Kůlna Cave, obtained raw materials for the production of tools. In the portal cave Švédův Stůl in the valley of the Hádacky brook, Karl Kubásek discovered part of the mandible of an adult Neanderthal a well as a few Mousterian artefacts in 1905. The large amount of gnawed bones shows that cave hyenas would repeatedly drag their prey into the cave.
In 1953-55, when the soil was cleared from the entire front hall, B. Klíma finally found the mid-Palaeolithic artefacts.
The last remarkable finding was made by the well-regarded amateur researcher Jaromír Vaňura and his daughter on a heap of spoil in front of the cave: they found a human molar that is missing in the jaw of 1905, as well as two skull fragments.
Industries of similar composition as in the Kůlně Cave are characteristic for the whole area of ​​the Lysická lowlands around the Svitava River, where they were discovered in the 1970s by Antonín Štrof. It was here that the Neanderthals from Berlin took raw material for their instruments. Chalk cornea of ​​honey colour (spongolites) is found here in the marl benches of Malý and Velký Chlum and freely in many places on the surface.
 Two localities on the hill Horka near Bořitov represent the largest mid-Palaeolithic deposits in Moravia, because they issued several cents of chipped industry. As in incl. 6a from the Kůlny cave, they combine elements of micoquien with paleolithic scratchers, which still retain the ancient side retouches.
It cannot be ruled out that some advanced blade cores were left here at much later times by the Magdalenian hunters. However, the largest localities near Bořitov are situated in typical 'hunting' locations with good view, not directly on the source of raw materials, where we would expect such younger Palaeolithic workshops.
In addition, a number of antique tools are derived from imported raw materials. In this secluded enclave, late Micoquian could develop even at a time when the first groups with a Neo-Paleolithic culture were in the Brno basin.
Text above: Anthropos Pavilion/Moravian Museum, Brno, Czech Republic and
Kozlowski et al. (2013)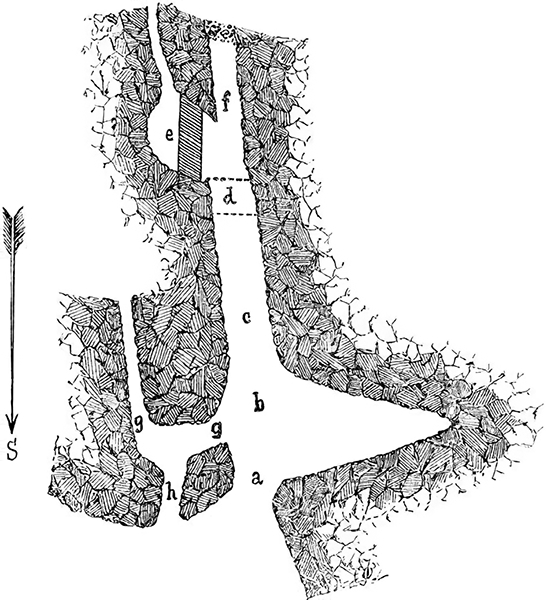 Plan of Švédův Stůl Cave.

Photo: Kříž (1909)
Proximal source: Oliva (2017)
Švédův Stůl Cave.

(left) Entry to the back hall with fallen ceiling.

(right) Work in the Kubaskově Hall where the mandible was found.

Photo: R. Czižek 1925
Proximal source: Oliva (2017)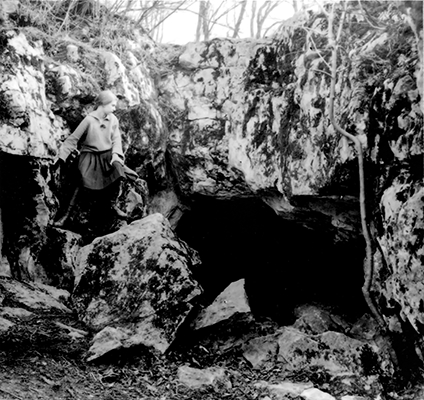 Švédův Stůl Cave in the Říčka valley near Brno in the 1920s.

Photo: Unknown, but possibly R. Czižek circa 1925
Rephotography: Don Hitchcock 2018
Source: Anthropos Pavilion/Moravian Museum, Brno, Czech Republic

Kůlna Cave (near Sloup, Blansko DIstrict):
1. Maxila fragment.
2. Right parietal bone.
3. Milk teeth.

Švédův stůl Cave :
4. Lower jaw.

Photo: Zde
Permission: Creative Commons Attribution-Share Alike 4.0 International license.
Source: From a Temporary exhibition 'Welcome to the Neandertals' in the Anthropos Pavilon, Brno.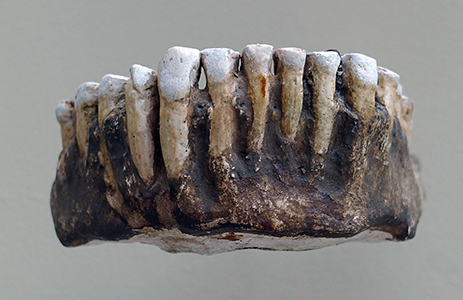 The jaw of a Neanderthal, found in 1905 by Karl Kubásek in the rear of the cave under a fallen ceiling.

Photo: Don Hitchcock 2018
Source and text: Facsimile, Anthropos Pavilion/Moravian Museum, Brno, Czech Republic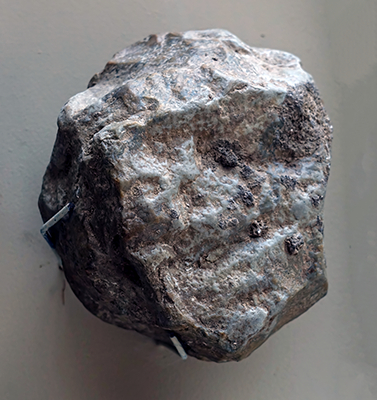 Few Neanderthal artefacts were found. Raw materials include Jurassic chert, quartz and quartzite.

Photo: Don Hitchcock 2018
Source and text: Originals, Anthropos Pavilion/Moravian Museum, Brno, Czech Republic

---
References
Kozlowski S. et al., 2012: New information from Maszycka Cave and the Late Glacial recolonisation of Central Europe, Quaternary International, 272-273 (2012) 288e296
Kozlowski S., Lozek V., Vlcek E., 2013: Hunters between East and West: The Paleolithic of Moravia, Springer Science & Business Media, 29 Jun 2013 - Social Science - 311 pages
Kříž, M., 1909: Die Schwedentischgrotte bei Ochos in Mähren und Rzehaks Bericht über homo primigenius Wilseri. Verhandlungen der k. k., Geologischen Reichsanstalt, Nr. 10, 217–233.
Oliva, M., 2017: Švédův stůl v Moravském krasu Geschichte des Neandertalerkiefers aus der Švédův stůl-höhle (Schwedentischgrotte) im Mährischen Karst, Anthropos, ISSN 0323-0570 Acta Mus. Moraviae, Sci. soc. CII: 1, 3–16, 2017
Svoboda J., Sachse-Kozlowska E., 1995: Magdalenian family from the Maszycka Cave. In: Koz1owski, et al. (Eds.), pp. 115-205.
---