Venus of Pekarna



Pekarna Cave

Photo: © V√≠t Lang, http://www.lands-of-venuses.eu/v-b-pekarna/w-b-pekarna.html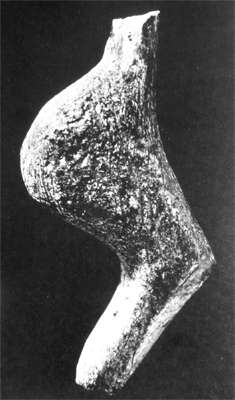 The Venus of Pekarna (Moravia), ~14 500 BP

This venus is obviously from the same tradition as that of the Gönnersdorf and Lalinde venus figures.

Photo: Marshack (1972)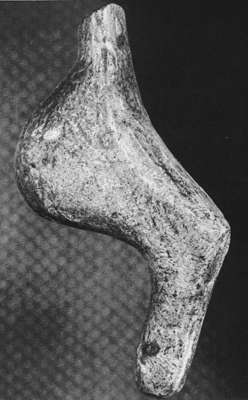 The Venus of Pekarna (Moravia)

Photo: MuŐąller-Beck and Albrecht (1987)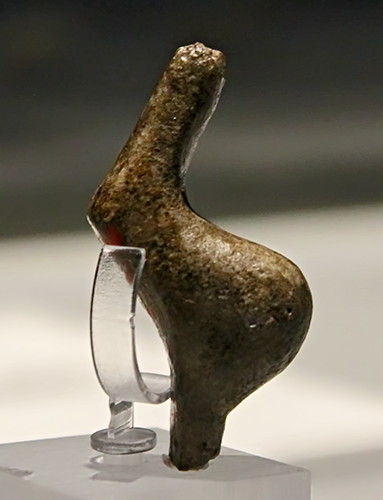 Venus of Pekarna

( Note that this piece is exhibited upside down compared to the images above. The latest displays of the piece all have this orientation, with the long 'neck' uppermost - Don )

Photo: Ralph Frenken
Source: Facsimile, exhibited at the Archeological Museum Hamburg (Ice Age - The Art of the Mammoth Hunters from 18 October 2016 to 14 May 2017)
On loan from the Hermitage Museum, Saint Petersburg, Russia.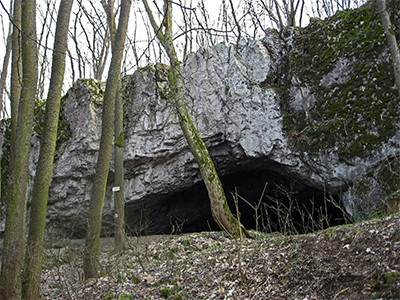 Pekarna Cave

Photo: Dezidor
Permission: Creative Commons Attribution 3.0 Unported license.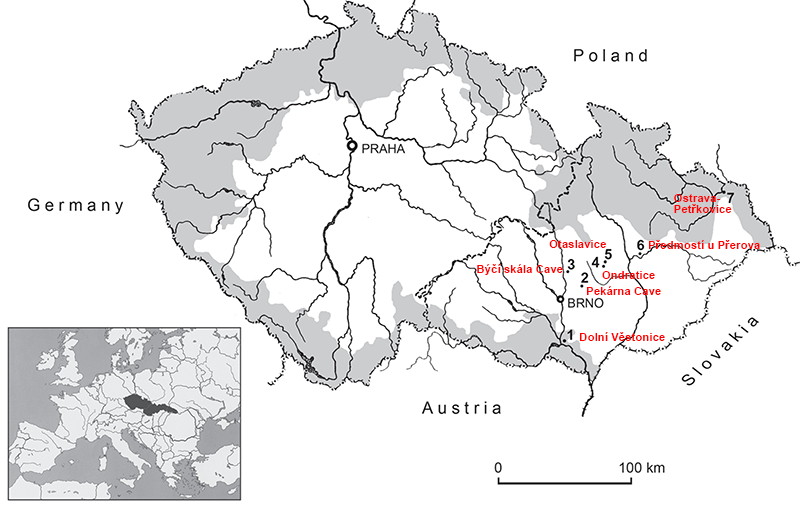 Map showing the location of the cave.

The Czechoslovak Republic in 1918'Äď1938 within European context. On the enlarged map one can see the historical frontier between Bohemia and Moravia with marked main sites commented in the text (the area depicted corresponds with today'Äôs Czech Republic; 1 'Äď Doln√≠ Vńõstonice, 2 'Äď Pek√°rna Cave, 3 'Äď ByŐĀńć√≠ sk√°la Cave, 4 'Äď Ondratice, 5 'Äď Otaslavice, 6 'Äď PŇôedmost√≠ u PŇôerova, 7 'Äď Ostrava- PetŇôkovice).

Frontier areas are marked in grey 'Äď so-called 'Sudety' 'Äď which became part of Germany from 30.09.1938 to 9.05.1945 due to the 'Munich Agreement'. The reduced territory existed from 30.09.1938 to 14.03.1939 as the so-called 'Second Republic'. From 15.03.1939 to 9.06.1945 this area was changed into the 'Protectorate of Bohemia and Moravia'. The Slovak part of the state in the East (indicated only on the downscaled map of Europe) became an independent republic.

Photo: after Kostrhuna (2009)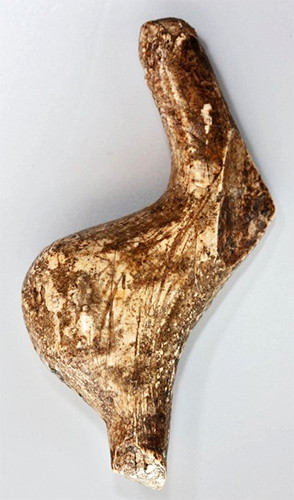 Venus of Pekarna

Photo: ces.mkcr.cz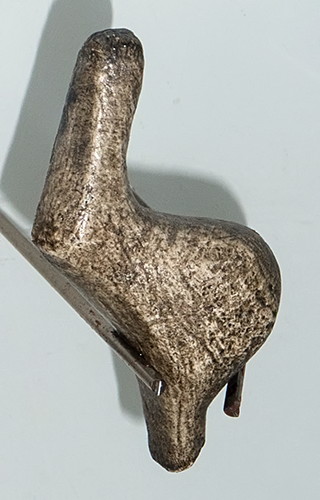 Venus of Pekarna

Mammoth ivory, height 45 mm, width 17 mm thickness 14 mm, discovered 1927

Photo: © V√≠t Lang, http://www.lands-of-venuses.eu/v-b-pekarna/w-b-pekarna.html
Source: Facsimile, Dolni Vestonice Museum
(Original at Anthropos, Moravské zemské muzeum, Brno)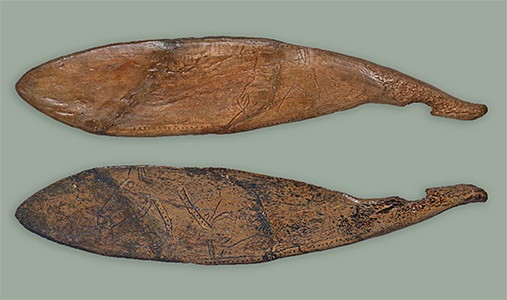 Engravings of horse heads, antelopes and bison on a horse jaw bone, from Pekarna Cave

Photo: © Ivan Balak
Source: http://www.cittadella.cz/europarc/index.php?p=index&site=NPP_jeskyne_pekarna_en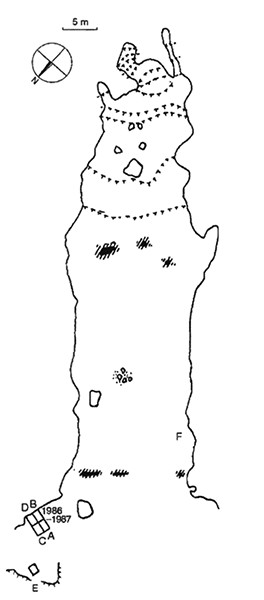 General plan of the Pek√°rna Cave, showing the location of the excavation 1986-1987 (sections AB, CD, and E) and the location of the radiometrically dated travertine deposit (F)

Photo and text: Horacek (2000)

Pekárna Cave at the beginning of Absolon's research in 1925.

The first excavation campaigns focused on exposures on the left side of the cave as seen from the entry.

Photo: Archives of the Anthropos Institute, Moravian Museum.

Source and text: Kostrhuna (2009)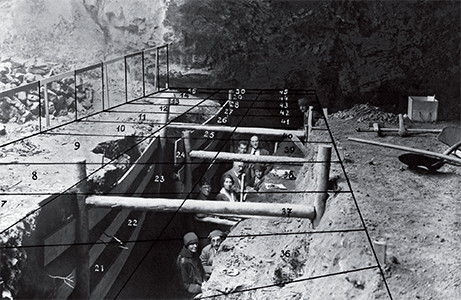 Visit of the American School of Prehistoric Research headed by Grant Mac Curdy in the transverse excavation trench inside the Pek√°rna Cave on July 22nd, 1926 where the classic Absolon section with all layers was uncovered. On the photo there is an indicated quadratic network.

The other participants in the excursion: Mrs. MacCurdy, dr. Edward Reynolds (Harvard Univesity), Mrs. Reynolds, Mrs. Harriett Allyn (Vassar College), Miss Edna Thuner (director of Liggett School), Mr. Richard M. Bond (Yale University), Mr. Grant T. Wickwire (Wesleyan University), Mr. Robert W. Ehrich (an anthropologist from New York), Henry Field (Dep. of Anthropology, Field Museum, Chicago), Mrs. Mitchell Carroll with son (Smithsonian Institution, Washington). After 'ÄúLidov√© noviny'ÄĚ from July 22nd, 1926.

Photo: Archives of the Anthropos Institute, Moravian Museum.

Source and text: Kostrhuna (2009)
---
References
Horacek, I. et al., 2000: The Pek√°rna Cave. Magdalenian stratigraphy and the termination of the loess formation in Moravian Karst, Antropozoikum, 24 pages, 61-79
Kostrhuna, P., 2009: Karel Absolon (1877'Äď1960) and the research of significant Palaeolithic sites in Moravia, Archaeologia Polona, vol. 47 : 2009, 91 'Äď 139 PL ISSN 0066 - 5924
---