The Venus of Terme-Pialat, Dordogne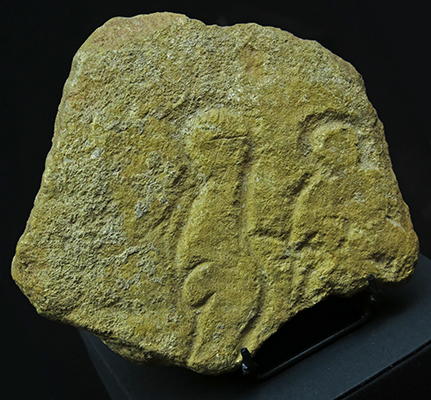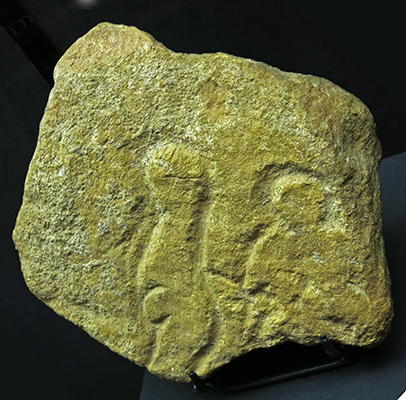 The engraving of the two venus figures here is so deep as to constitute bas-relief. It is believed to be from the Aurignacian. Terme-Pialat is near Combe-Capelle.

Photo: Don Hitchcock 2014
Source: Original, Musée d'art et d'archéologie du Périgord, Périgueux
The archaeological site of le Terme Pialet is situated in the municipality of Saint-Avit-Sénieur (Dordogne) in the Couze valley, a tributary of the Dordogne, on the edge of the road from Belvès to Couze, at approximately 1500 m from Roc de Combe Capelle.

History: In 1911, the land owner, M. Janicot, while cultivating the soil, discovered 'a number of flints'. Intrigued by his discoveries, he made some fairly deep holes. The following year, A. Délugin and R. Tarel rented a part of this land with a view to making excavations. They made these excavations later, separately, and each of them had the good fortune to discover an engraved block. These blocks were not found in place, but in the spoil from the diggings of the owner.

The block found by A. Délugin is now in the Périgord Museum.
Text above:
Delluc et Delluc (1978)
---
References
Cook, J., 2013: Ice Age art: arrival of the modern mind, The British Museum, 18 Feb 2013, ISBN-10: 0714123331, ISBN-13: 978-0714123332
Delluc B., Delluc G., 1978: Les manifestations graphiques aurignaciennes sur support rocheux des environs des Eyzies (Dordogne), Gallia préhistoire Tome 21 fascicule 2, 1978. pp. 333-438.
---