Venus of Oblazowa / Venus of Obłazowa
Obłazowa Cave is a cave situated in the nature reserve of Przełom Białki at Nowa Biała near Krempachy, GPS 49° 25'43" N 20° 07' 37" E, Gmina Nowy Targ in Lesser Poland Voivodeship, southern Poland. The cave has a 9 m long chamber to which a short corridor leads. It is one of the most important Palaeolithic sites in Poland.

Obłazowa Cave was first excavated in 1985, and is best known for the discoveries of remains of settlement from the time of Middle and Upper Palaeolithic. The traces of most recent settlement in the cave, found in the uppermost part of the stratigraphy can be attributed to Magdalenian settlement. Results of latest excavation brought more precise date this occupation face. In years 2016 and 2017 in layer III of the cave a series of artefacts, and a small sandstone female figurine were found.
Text above: Wikipedia and
Valde-Nowak et al. (2017)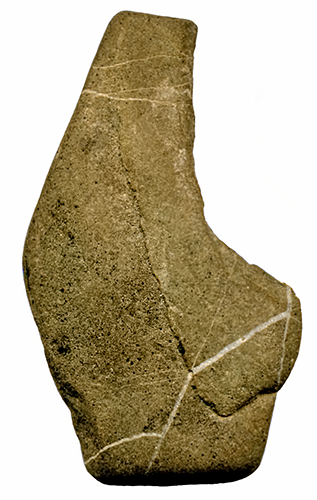 Lalinde/Gönnersdorf figurines and engravings such as this one are strictly stylised and considered as evident female forms, with over-sized buttocks, long trunks, small or missing breasts, and no heads.

This small stylised plaquette is 53 mm long, 32 mm wide and 7 mm thick. It was made of a flat pebble of flysch sandstone. It is of a Dexter type, which means that the over-sized buttocks are located on the right edge.

The right edge was formed into a notch by retouching of a distal end (abrupt, partly alternating retouch), an intentional break-effect is visible at the proximal end. Also on the left edge, in the proximal part, a tiny notch was made. Moreover, on the left curved edge in the medium part of the piece one can see a belly of pregnant woman or faintly silhouetted breasts. On both faces of the figurine there are some calcite lines that make the artefact even more attractive.

( it would seem that the 'right' edge is defined as that on the right for which when we look at the piece, we can see that flakes have been taken off the edges, that is we are looking at the front rather than the back, as usually defined - Don )

Photo: U. Bąk
Source: Valde-Nowak et al. (2017)
A Palaeolithic artefact, described as a 'Venus figurine', was discovered by archaeologists within the Obłazowa Cave, in Nowa Biała, South Poland. It is believed to be 15 000 years old.
The discovery was made last during excavations in the cave by a team of archaeologists led by Paweł Valde-Nowak of the Institute of Archaeology at Jagiellonian University in Kraków. The artefact measures 55 mm in height and is made of a flat sandstone, possibly a pebble found in a river. The researcher describes the shape as a female figurine pictured from the side, with distinct depiction of the buttocks and hips. So far figurines of this type and shape have been found only in two places in Poland – in Wilczyce and Dzierżysław, but many are known from the whole of Europe.
Obłazowa cave is known for the remains associated with the Neanderthals, who are believed to be the first occupants of the site, around 100 000 years ago. The oldest remains of the Homo sapiens species from the area of Poland were also found in the cave, dating back 30 000 years. This figurine dates back to 15 000 BP, a period from which other artefacts have been found, including stone tools used for skinning. Other tools were made of reindeer antlers. According to the researchers the finds suggest that the cave was used on a daily basis and as a permanent settlement.
(after Nauka w Polsce, O2 & Instytut Archeologii Uniwersytetu Jagiellońskiego)
Source: https://archaeofeed.com/2018/03/venus-figurine-discovered-in-oblazowa-cave/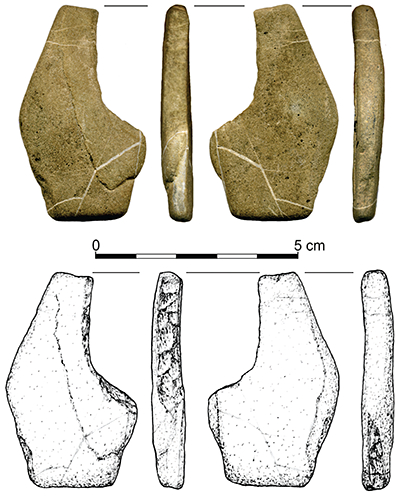 Nowa Biała, Nowy Targ district, site 2. Figurine from Obłazowa Cave.

Photo: Photo by U. Bąk, drawing K. Lajs
Source: Valde-Nowak et al. (2017)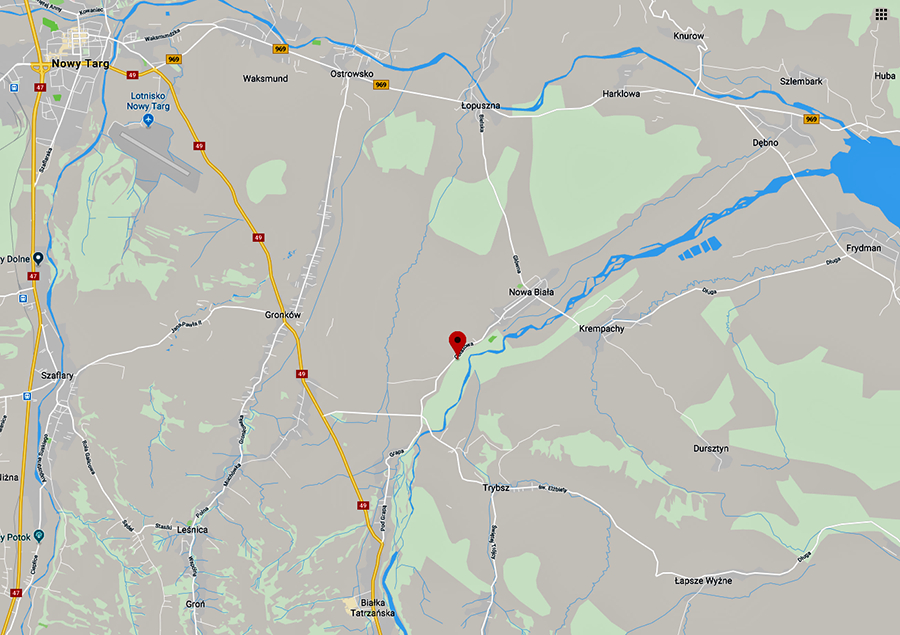 Obłazowa Cave location in Poland.

Photo: Google Maps
References
Valde-Nowak P. et al., 2017: Magdalenian figurine from Obłazowa Cave, AAC, 52:299–304.