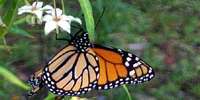 Bushwalking Index
The Apsley and Green Gully Creek
Click on the photos to see an enlarged version
These track notes and photos are for the interest of armchair travellers only, and do not constitute comprehensive instructions for bushwalkers.

The Apsley River is for very fit, very experienced and well prepared bushwalkers only. There is no track, it is very strenuous, and bush craft, topographical maps and compass are required. Sufficient water and food and survival equipment should be carried. One or more overnight camps are usually necessary, for which sufficient appropriate equipment should be carried. Always carry a Personal Locator Beacon, and tell reliable people where you are going and how long your party will be away. Mobile phones do not work anywhere in the gorges for sure, and almost never even on top of the cliff line.




Budds Mare. This unusual name has an unknown provenance. It is a lookout over the Apsley River Gorge, and provides an easy way down via a four wheel drive (SUV) track or a walker's track to the valley 700 metres below. There is a locked gate on the four wheel drive track, and drivers can pay a fee for the key, and to go down to the basic camping facilities below.

Photo: Don Hitchcock November 2004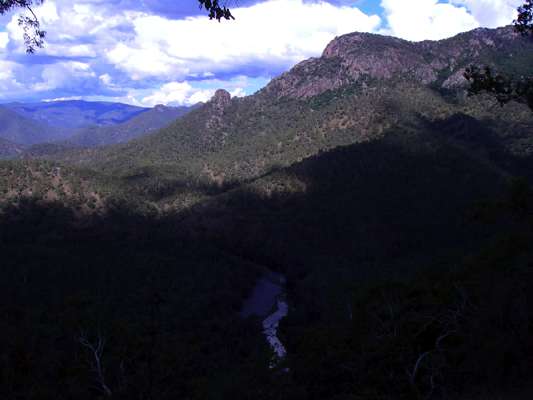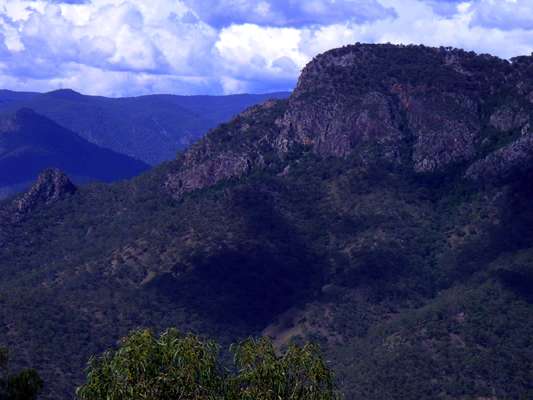 Paradise Rocks in the distance.

Photo: Don Hitchcock April 2006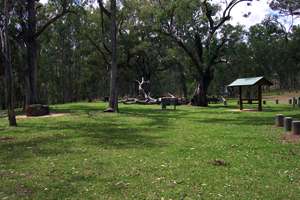 The camping area is a beautifully presented and maintained area beside the Apsley.

Photo: Don Hitchcock November 2004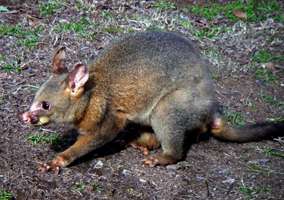 This possum is so tame, it seems likely that visitors feed it. This is a very poor idea, the animals need to fend for themselves to stay fit and healthy and disease free.

Photo: Don Hitchcock July 2006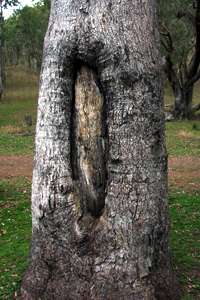 Often called a canoe tree, this is actually a coolamon (carrying dish) tree within the camping area at the bottom of the four wheel drive track beside the Apsley River. The bark was carved out using a flint axe, or after white contact, a steel tomahawk.

From Wikipedia:

A coolamon is a multi-purpose shallow vessel, or dish with curved sides, ranging in length from 30–70cm, and similar in shape to a canoe.

Coolamons were traditionally used by Aboriginal women to carry water, fruits, nuts, as well as to cradle babies. Today when women gather bush tucker, they usually use a billy can, bucket or flour tin. Coolamons were carried on the head when travelling any distance, or under the arm if used as a cradle. If carried on the head, a ring pad was placed on the head, made out of possum and/or human hair string, twisted grass, or feathers.

Photo: Don Hitchcock November 2004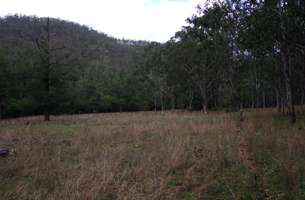 Heading upstream, the way is made easier by cattle tracks. If I had my way, the New South Wales National Parks and Wild Life Service, NPWS, would use cattle or horses to keep tracks open along the gorges. Properly managed, horses would be ideal, as they find and maintain tracks which are higher (that is, they nip off overhanging vegetation) than those cattle maintain, and horses are more willing to gain a few metres of altitude in order to shave a lot of distance off the journey. Although this is a National Park, there are many wild cattle in the area. NPWS is doing its best to eliminate them. I hope they don't succeed completely, it would make walking in the gorges much more difficult.

Photo: Don Hitchcock November 2004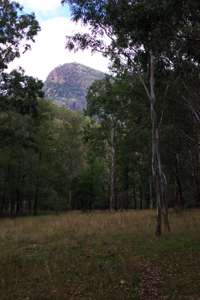 Paradise Rocks on the horizon.

In general Casuarina trees dominate the riverside, together with some Melaleuca and occasional Ficus rubiginosa, with Eucalyptus and Angophora further up the gorge walls and on the river flats.

Photo: Don Hitchcock November 2004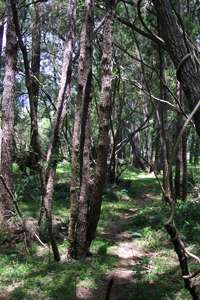 The way often leads through forests of Casuarina and Melaleuca and other species, sometimes with Lianas.

Photo: Don Hitchcock November 2004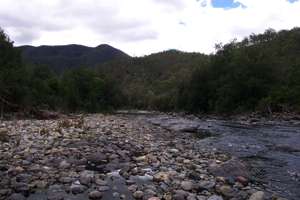 The Apsley is a beautiful clean river, with many delightful vistas, and at this point it is very easy to go upstream.

Photo: Don Hitchcock November 2004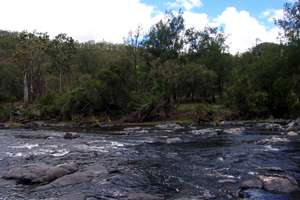 The Apsley is a fast flowing river, and there are many camp sites which could be used on its banks.

Photo: Don Hitchcock November 2004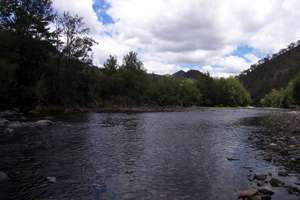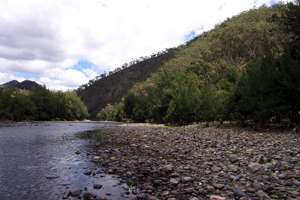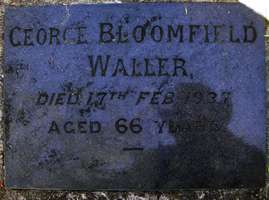 Crossing the river is easy, the crossings are wide and relatively fast flowing, but shallow unless there has been recent rain and the levels are up, in which case I would pull the plug and go home. It is a very dangerous river in flood, and I know of at least one grave on its banks (image on right, downstream of Budds Mare, December 2005) of a stockman who drowned while crossing the Apsley on a horse during a wet period.

Photo: Don Hitchcock November 2004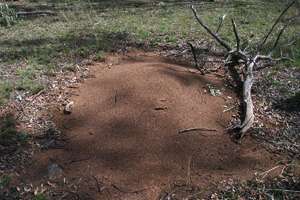 Australia must be the ant capital of the world, though I've heard that Africa comes close. There are staggering numbers of species of ants here. This "ant nest" is the tailings formed from the gravel that has been excavated by ants beneath the surface.

Photo: Don Hitchcock November 2004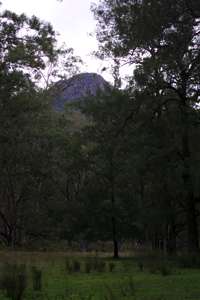 Paradise Rocks dominates the skyline for many kilometres along the course of the river.

Photo: Don Hitchcock November 2004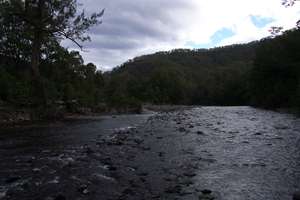 After a series of false alarms, finally in the late afternoon I reached the junction of Green Gully Creek (coming in here from the left) with the Apsley. Looking upstream.

Photo: Don Hitchcock November 2004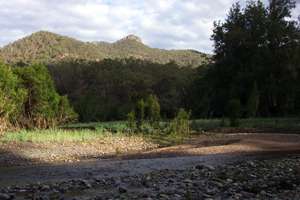 Looking across Green Gully creek flowing from right to left. It does not always have as much water in it as in this photograph.

Photo: Don Hitchcock November 2004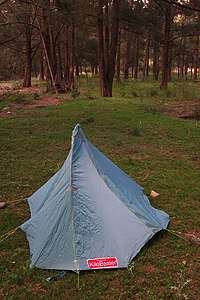 Camped for the night between Green Gully Creek and the Apsley.

I made this tent from Kmart shower curtains (70 gm per m²), and it served me well for many years. It was the second of the series of KiloBeater™ tents I have made, specifically designed to come in under one kilogram. In this case I simply set up the carbon fibre pole in an arc, then draped the fabric over it, cutting and shaping as necessary. It turns out that less than half of a tent is the waterproof bit. Net, zippers, tapes, cords, poles, pegs all add to the final weight. Any improvement almost always results in more weight.

The tent had a bridal veil insect net and a floor of shower curtain material inside, as well as one side as a vestibule. It worked well, and weighed 880 gm total including pegs and pole, and packed up into a very small package. Small volume is almost as important as small weight when designing bushwalking equipment. I make my own tents, sleeping bags, raincoats, stoves, stove supports, carbon fibre poles and pegs, backpacks, warm hats, gaiters, ditty bags, pack liners and so on. Not because I can't afford commercial versions, (I have spent thousands on equipment and materials over the last few years) but because mine are either better for the purpose, or lighter, or less volume.

However this version was a very reliable tent, and survived rain and hail storms, though I had to repair it once when a large rock fell on it and made a big rent in it, fortunately when I was having a cup of turkish coffee outside at the time, when I was unwillingly benighted in the Dangars Falls gorge. That is a story that needs a long time to tell, and a trip that shaved several years off my life .......

Photo: Don Hitchcock November 2004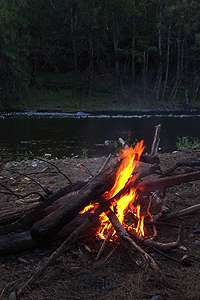 One of the delights of bushwalking is having a fire at night. It is a very satisfying thing to do. Casuarina needles make excellent firestarters, and the wood burns well to a white ash.

The best wood for a cooking fire is Angophora, or rough barked apple, Angophora floribunda in this area. It is hard to get started in large pieces, but burns down to long lasting red hot coals.

However it is unwise to camp beneath an Angophora, because they drop heavy branches without warning.

Photo: Don Hitchcock November 2004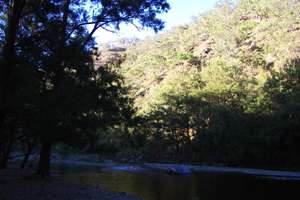 First sunlight on the east facing gorge wall.

Another thing I find without peer is to wake up in the morning before daylight, lean out of the tent and make a cup of turkish coffee, and complete breakfast in bed, all without leaving my sleeping bag.

At first light, the kookaburra starts laughing, and later the magpie begins its "oogle-argle-oogle" call. But by then I am usually packed up and on my way.

Photo: Don Hitchcock November 2004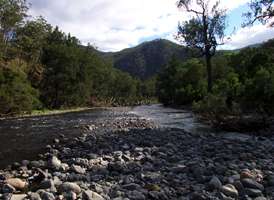 On the return trip.

Looking downstream, the Apsley on the left, Green Gully Creek on the right. Green Gully Creek is not usually as full as this, and often dries up completely, and is a much smaller stream than the Apsley, though it does not look it in this photo.

Photo: Don Hitchcock November 2004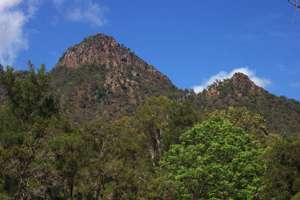 On the return trip.

Paradise Rocks. It is interesting the different perspectives you see on the return journey, sometimes it seems like a different walk altogether.

Photo: Don Hitchcock November 2004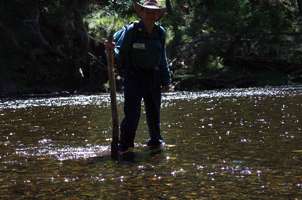 On the return trip.

It is not easy to take a self portrait when you walk alone, as I mostly do! Here I set up the camera on a convenient rock, and splashed back into the water.

I've got the map in my shirt pocket, and I often pick up a stick for crossing creeks and rivers, though not usually for walking, except going up hills, where a couple of sticks helps a lot, especially on a made dirt track.

The water in the Apsley is usually as clear as crystal. If it turns muddy, be prepared for a sudden rise in water level.

Photo: Don Hitchcock November 2004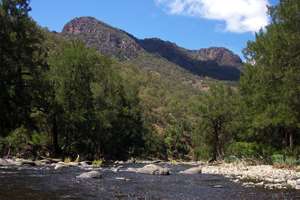 On the return trip.

Paradise Rocks, the other side.

Photo: Don Hitchcock November 2004
---
Climbing Paradise Rocks
On another trip in April 2006, I went with the Armidale Bushwalking Club along the Apsley, and we climbed Paradise Rocks.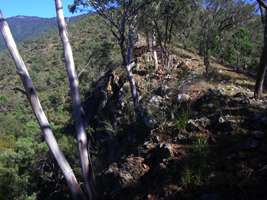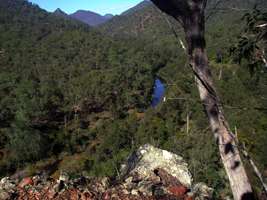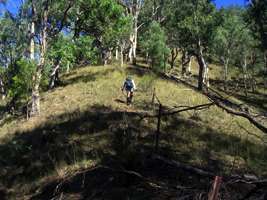 Starting up the ridge.

Photo: Don Hitchcock April 2006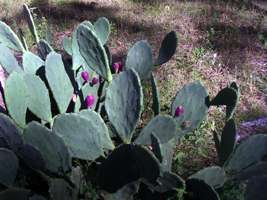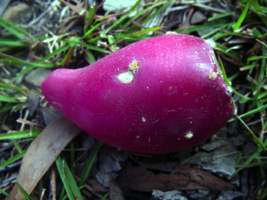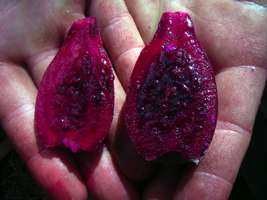 Along the way we found these prickly pear fruit. They are good to eat, but the prickles are hard to avoid.

Photo: Don Hitchcock April 2006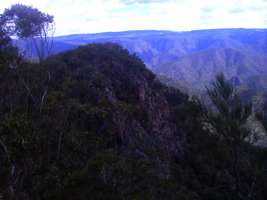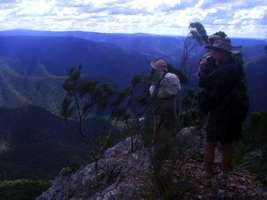 It was an 800 metre climb, and the views were spectacular, but the wind was ferocious.

Photo: Don Hitchcock April 2006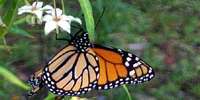 Bushwalking Index
Anyone (e.g. students, libraries, government agencies such as tourist bureaus, the general public) may use, print and publish the photographs taken by me and presented on this bushwalking file for any legitimate non-commercial purpose, at no cost, and without asking permission. However a note such as "Photo: Don Hitchcock" somewhere in the document would be appreciated if it is to be published.