Back to Archaeological Sites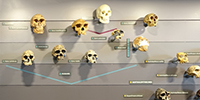 Back to the review of hominins
Le Moustier Tools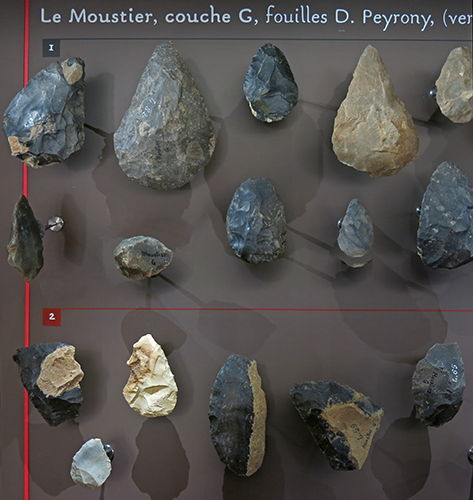 Le Moustier, layer G, excavations of D. Peyrony.

Age circa 55 000 BP.

■1 Bifaces, hand axes
■ 2 Racloirs, side scrapers

Photo: Don Hitchcock 2014
Source: Originals, Le Musée National de Préhistoire, Les Eyzies-de-Tayac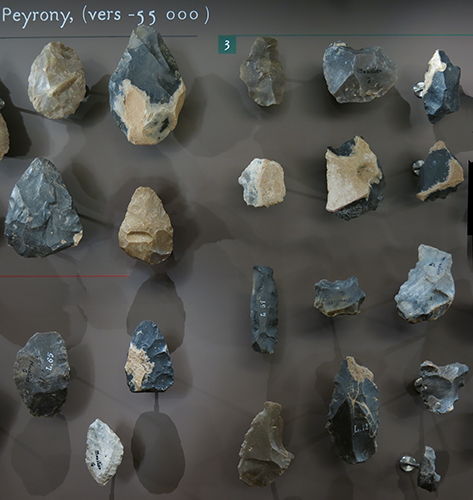 Le Moustier, layer G, excavations of D. Peyrony.

Age circa 55 000 BP.

■1 Bifaces, hand axes
■ 2 Racloirs, side scrapers
■ 3 Encoches/denticulés, notched/serrated tools

Photo: Don Hitchcock 2014
Source: Originals, Le Musée National de Préhistoire, Les Eyzies-de-Tayac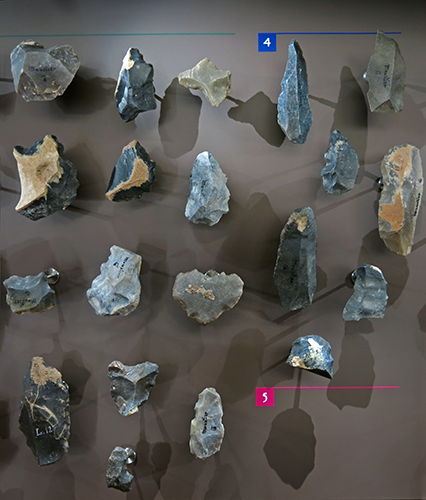 Le Moustier, layer G, excavations of D. Peyrony.

Age circa 55 000 BP.

■ 3 Encoches/denticulés, notched/serrated tools
■ 4 Tools of the upper Palaeolithic type
■ 5 Special tools

Photo: Don Hitchcock 2014
Source: Originals, Le Musée National de Préhistoire, Les Eyzies-de-Tayac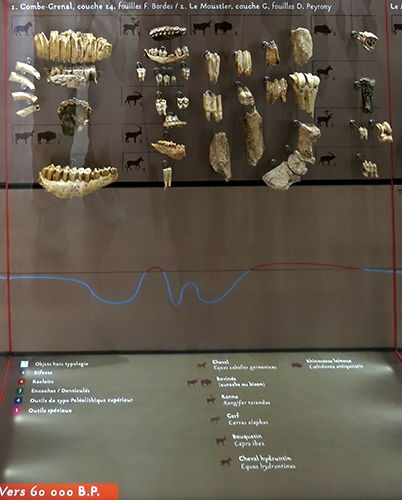 Bones and other organic remains from le Moustier, layer G, excavations of D. Peyrony, as well as those from Combe Grenal, layer 14, excavations of F. Bordes.

Photo: Don Hitchcock 2014
Source: Originals, Le Musée National de Préhistoire, Les Eyzies-de-Tayac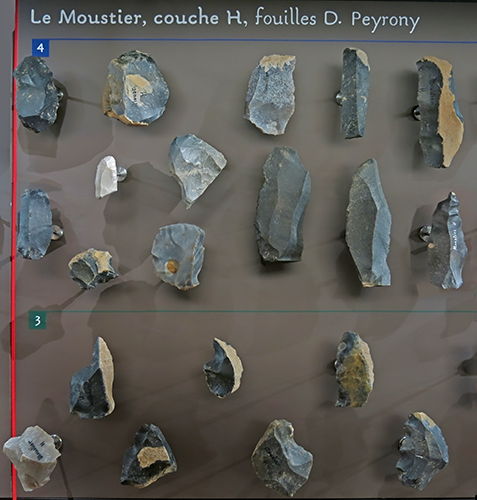 Le Moustier, layer H, excavations of D. Peyrony.

Age circa 55 000 BP.

■ 3 Encoches/denticulés, notched/serrated tools
■ 4 Tools of the upper Palaeolithic type

Photo: Don Hitchcock 2014
Source: Originals, Le Musée National de Préhistoire, Les Eyzies-de-Tayac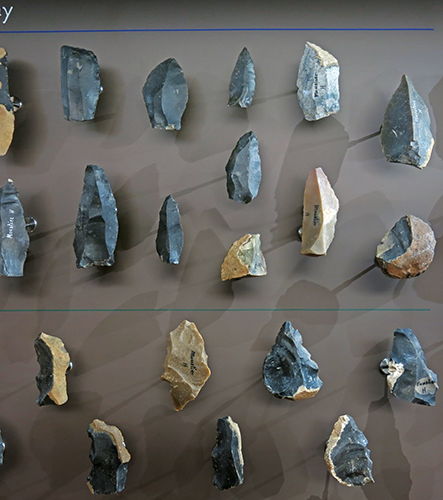 Le Moustier, layer H, excavations of D. Peyrony.

Age circa 55 000 BP.

■ 3 Encoches/denticulés, notched/serrated tools
■ 4 Tools of the upper Palaeolithic type

Photo: Don Hitchcock 2014
Source: Originals, Le Musée National de Préhistoire, Les Eyzies-de-Tayac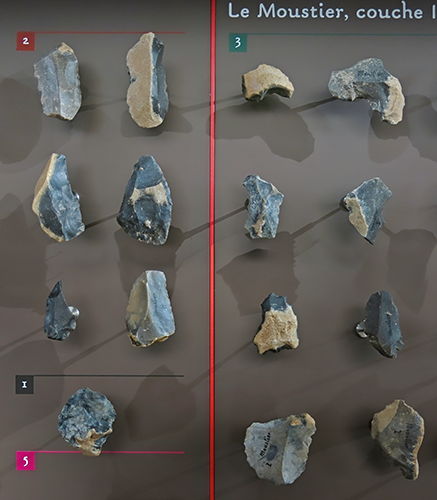 (left) Le Moustier, layer H, excavations of D. Peyrony.

(right) Le Moustier, layer I, excavations of D. Peyrony.

Ages circa 55 000 BP, 50 000 BP respectively.

■1 Bifaces, hand axes
■ 2 Racloirs, side scrapers
■ 3 Encoches/denticulés, notched/serrated tools
■ 5 Special tools

Photo: Don Hitchcock 2014
Source: Originals, Le Musée National de Préhistoire, Les Eyzies-de-Tayac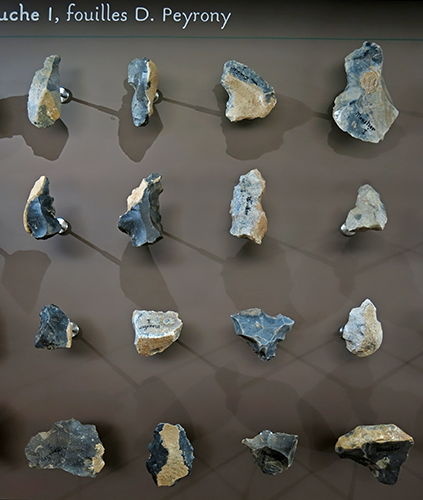 Le Moustier, layer I, excavations of D. Peyrony.

Age circa 50 000 BP.

■ 3 Encoches/denticulés, notched/serrated tools

Photo: Don Hitchcock 2014
Source: Originals, Le Musée National de Préhistoire, Les Eyzies-de-Tayac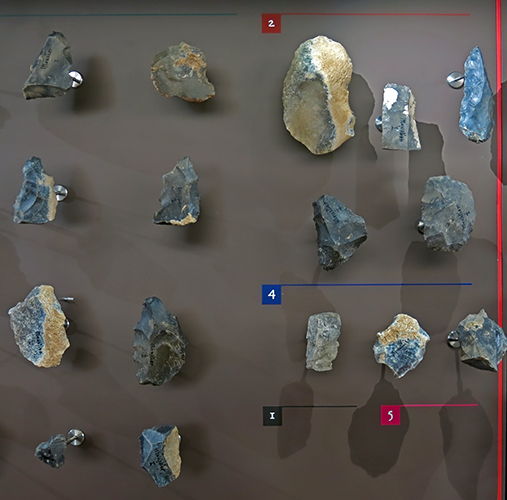 Le Moustier, layer I, excavations of D. Peyrony.

Age circa 50 000 BP.

■1 Bifaces, hand axes
■ 2 Racloirs, side scrapers
■ 3 Encoches/denticulés, notched/serrated tools
■ 4 Tools of the upper Palaeolithic type
■ 5 Special tools

Photo: Don Hitchcock 2014
Source: Originals, Le Musée National de Préhistoire, Les Eyzies-de-Tayac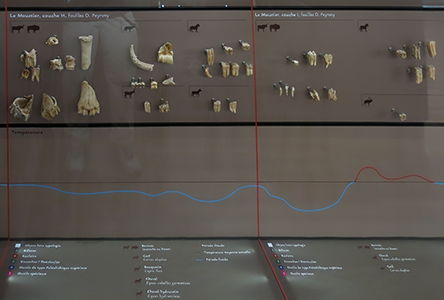 Bones and other organic remains from le Moustier, layers H and I, excavations of D. Peyrony.

Photo: Don Hitchcock 2014
Source: Originals, Le Musée National de Préhistoire, Les Eyzies-de-Tayac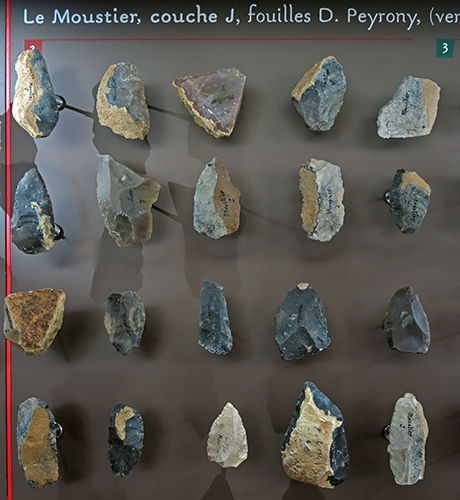 Le Moustier, layer J, excavations of D. Peyrony.

Age circa 40 500 BP.

■ 2 Racloirs, side scrapers
■ 3 Encoches/denticulés, notched/serrated tools

Photo: Don Hitchcock 2014
Source: Originals, Le Musée National de Préhistoire, Les Eyzies-de-Tayac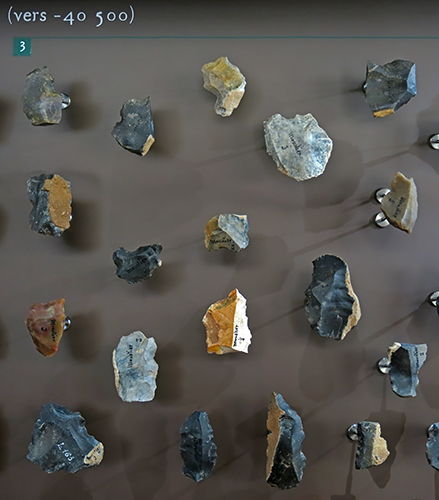 Le Moustier, layer J, excavations of D. Peyrony.

Age circa 40 500 BP.

■ 3 Encoches/denticulés, notched/serrated tools

Photo: Don Hitchcock 2014
Source: Originals, Le Musée National de Préhistoire, Les Eyzies-de-Tayac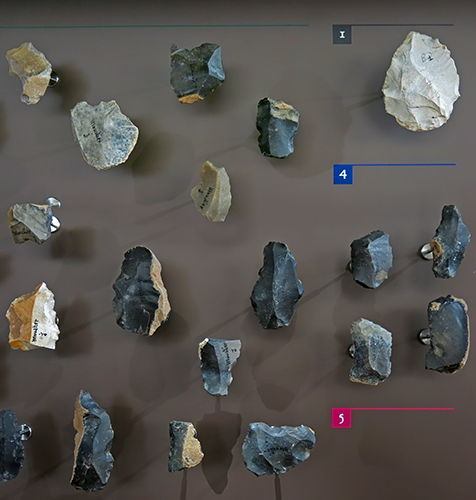 Le Moustier, layer J, excavations of D. Peyrony.

Age circa 40 500 BP.

■1 Bifaces, hand axes
■ 3 Encoches/denticulés, notched/serrated tools
■ 4 Tools of the upper Palaeolithic type
■ 5 Special tools

Photo: Don Hitchcock 2014
Source: Originals, Le Musée National de Préhistoire, Les Eyzies-de-Tayac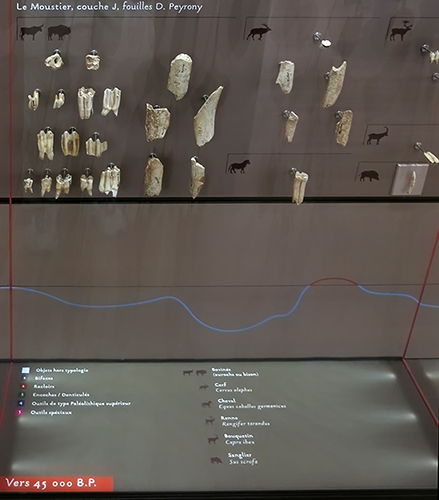 Bones and other organic remains from le Moustier, layer J, excavations of D. Peyrony.

Note that the age given here for layer J, circa 45 000 BP, is at variance with that given on the display immediately above of the stone tools, circa 40 500 BP.

Photo: Don Hitchcock 2014
Source: Originals, Le Musée National de Préhistoire, Les Eyzies-de-Tayac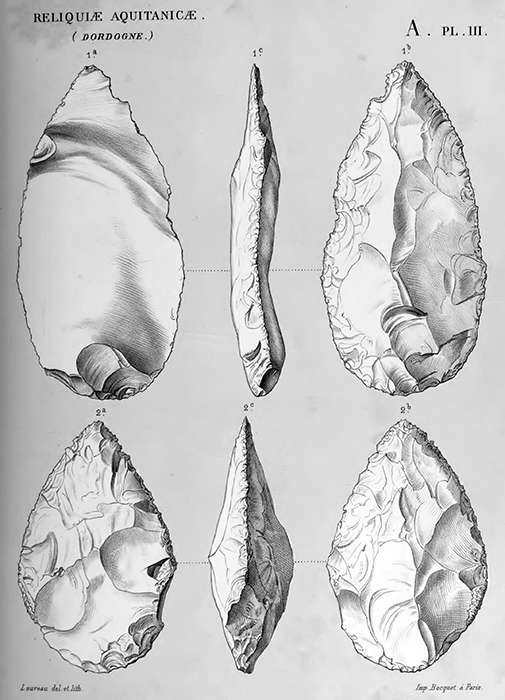 Figs. 1 a, 1 b, I c. Large broad flake, worked into a lanceolate form by careful chipping along the edges of the outer face.

Dark-grey flint, slightly glazed. Lightly weathered by surface-change on the face 1 b.

Length 122 mm, breadth 60 mm, thickness 18 mm.

Le Moustier.



Figs. 2 a, 2b, 2c. Implement of ovato-lanceolate form, almost equally convex on each face; the narrow or pointed end considerably thinner than the broad end or butt.

This specimen has been roughly chipped from the solid, and then more carefully worked on the edges of the pointed end, thus resembling some of the old worked flints from the Valley of the Somme.

A small portion of the original crust of the flint is left on the outer curve of Fig. 2 b.

Dark-grey flint, slightly glazed.

Length 90 mm, breadth 57 mm, thickness 30 mm.

Le Moustier.

Source and text: Lartet and Christy (1875)
Proximal source: https://archive.org/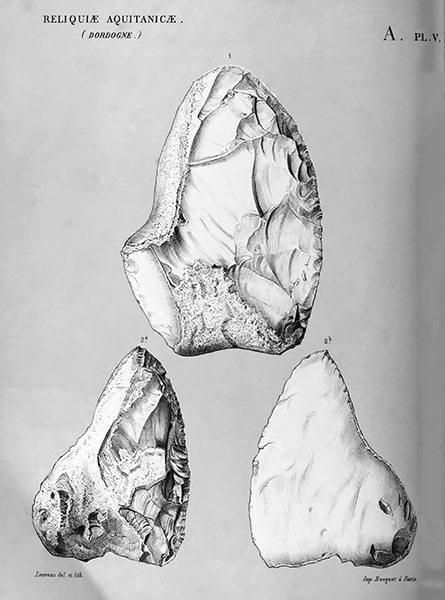 These specimens belong to the type of implement specially adapted for being held in the hand by the thick and naturally rounded margin; whilst the opposite margin, reduced to a sharp curved edge by careful chipping, can be used as a hatchet or chopper, and seems well fitted for smashing the marrow-bones which are found broken among the hearth-stuff of the caves in great profusion.

These choppers vary much in size, and were chiefly found in Le Moustier Cave, a few only having occurred at Les Eyzies or elsewhere. Many seem to show signs of wear; and some have the edge chipped at a much more obtuse angle than others.

1. One-edged cutting-instrument, or chopper, formed from a block of grey flint, which has been first reduced by bold chipping to a flattened form, and then finely chipped on both faces along one margin, so as to produce a sharp cutting edge in the form of a segment of a circle.

The other margin is left with the natural crust of the flint, and can be conveniently held in the hand. On the side figured, a portion of the crust remains, the rest of the surface having been chipped away.

From Le Moustier.

Length 130 mm, breadth 88 mm, thickness 32 mm.
2a, 2b. A similar instrument, but bevel-edged, formed of a large thick flake, that has been struck off at a single blow from a block of flint, and then brought to a curved cutting-edge along one border by the chipping away of the outer face.

This flint is nearly black, with a yellowish crust remaining on the portion that is convenient for holding in the hand.

2a shows the chipped side, with some of the crust remaining; fig. 2b, the flat side.

From Le Moustier.

Length 95 mm, breadth 74 mm, thickness 21 mm.

Source and text: Lartet and Christy (1875)
Proximal source: https://archive.org/
---
References
Favraud, A.,1908/1909: La station Moustérienne du Petit-Puymoyen Alcan, F. (ed) Revue de L'École d'Anthropologie de Paris, 1908-1909 (not in copyright)
Lartet, E., Christy H.,1875: Reliquiae aquitanicae : being contributions to the archaeology and palaeontology of Pèrigord and the adjoining provinces of Southern France, London: Williams, 1875
Peyrony, D., 1930: Le Moustier. Ses gisements, ses industries, ses couches géologiques Revue anthropologique, XL, 1930, p49 - 52
---

Back to Archaeological Sites