Hitchcock Family History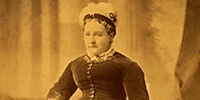 Back to the Hitchcock Family index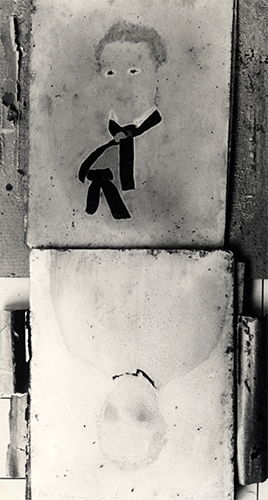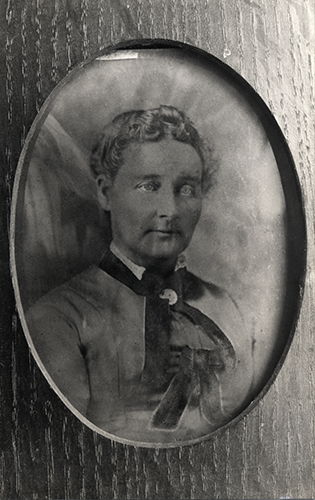 Studio photo of unknown origin of Great Grandmother Emma Hitchcock, nee Fuller, probably taken before she was married, and before leaving England for Australia, which she and her husband reached in 1865.

She had red curly hair. Notice how short it is.

The photo uses a fascinating technique, an adaptation of the Ambrotype process. The negative is on the back of the bowl shaped glass. The eyes and scarf and hair were painted over, with extra tinting on the paper behind, to give the illusion of a positive. The back of the negative is shown at the top of the left hand photo.

Her maiden name was Wright, which gives the name Charles Wright Hitchcock (Uncle Charlie).

Photo: Unknown Studio.
The ambrotype was introduced in the 1850s. During the 1860s it was superseded by the tintype, a similar photograph on thin black-lacquered iron, hard to distinguish from an ambrotype if under glass.

In the classic ambrotype process, one side of a clean glass plate was coated with a thin layer of iodized collodion, then dipped in a silver nitrate solution. The plate was exposed in the camera while still wet. Exposure times varied from five to sixty seconds or more depending on the brightness of the lighting and the speed of the camera lens. The plate was then developed and fixed.

The resulting negative, when viewed by reflected light against a black background, appears to be a positive image: the clear areas look black, and the exposed, opaque areas appear relatively light. This effect was integrated by backing the plate with black velvet; by taking the picture on a plate made of dark reddish-coloured glass (the result was called a ruby ambrotype); or by coating one side of the plate with black varnish.

Either the emulsion side or the bare side could be coated: if the bare side was blackened, the thickness of the glass added a sense of depth to the image. In either case, another plate of glass was put over the fragile emulsion side to protect it, and the whole was mounted in a metal frame and kept in a protective case.

Text: Wikipedia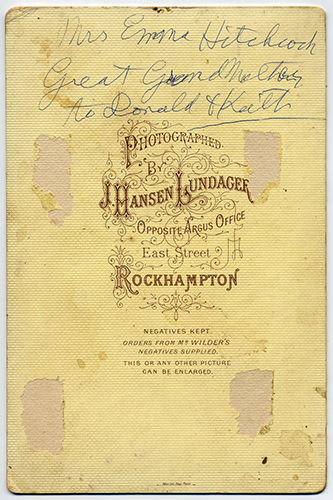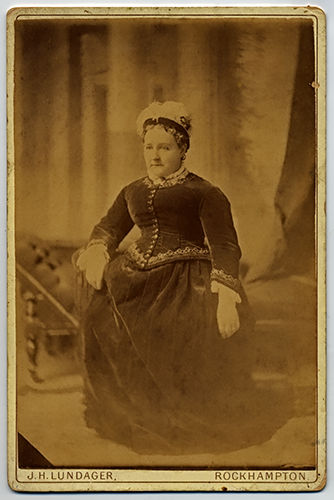 Studio photo ca 1887 of Great Grandmother Emma Hitchcock, nee Fuller.

Boned bodices of this type were popular during 1885-1887, and in 1887 braid trimmed neck and cuffs were popular. In America velvet hats with ostrich feathers were popular in 1884-5, and in 1887 hats in red felt were trimmed with red velvet and feathers.

J. Hansen Lunduger, Photographer of East Street, was at this address between 1884 and 1891. The velvet dress and corsets must have been awfully hot for most of the year in Rockhampton! I wonder if the dress was green to go with her red hair?

On the back, in the handwriting of William Edward (Ted) Hitchcock:

'Mrs Emma Hitchcock Great Grandmother to Donald and Keith'

Photo: J. H. Lundager, Rockhampton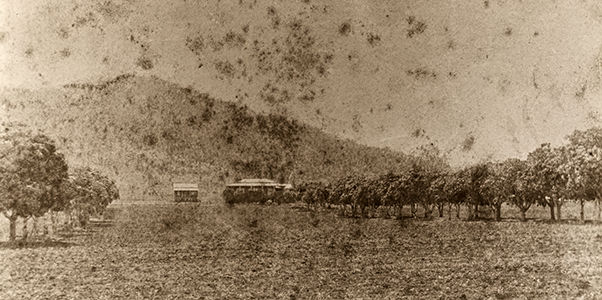 1890?

'Fern Hill' Tungamull (later Tarabah)

Charles William Hitchcock's home. William Henry grew up here. Rod Higginson's parents had it at one time. Note shed on left which is not on later(?) photos. I wonder if it was the original house, since demolished?

Note in particular the double row of mango trees lining the drive up to the house. By the late 20th Century, the trees were huge, and the drive was no more, just a tangled mass of undergrowth. The original house was still standing, but had been clad over the original timber, which was still in good condition.

I remember seeing a photo of macrozamias on a hill side. I wonder if this is the origin of the name 'Fern Hill'?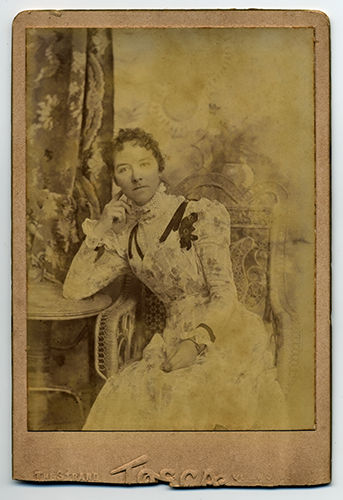 1890-1892?

Great Aunt Sis (Eliza)

Born 18.05.1873 Birth Certificate No. 73/002812

Taken in Rockhampton, 'The Strand Tosca Queensland' is embossed on the card, which is 15.5 x 10.5 cm in total.

Date based on the size of the puffed upper sleeves. The bustle disappeared at about this time, and the silhouette changed to an hour glass figure. The high lace collar was still popular in 1893.

Same background as the 1900 family photograph. Very faded.

Sis was a severe woman with a strict manner. She looked after Great Grandfather until he remarried, to Grace, who was French, and quite young. Some say no one approved of his marriage to Grace, yet others say that she was accepted readily into the family.

Bella thought that Grace thought that Charles had a lot of money.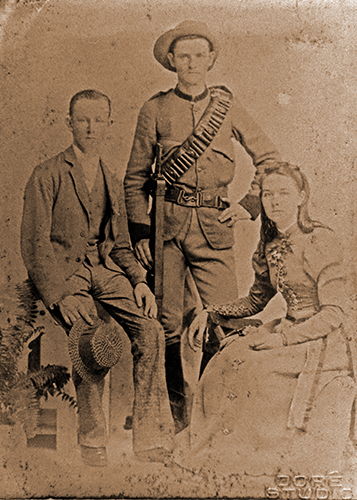 Studio photo, Christmas 1894, left to right:

Great Uncle Ned (Edward Clement), 17 yrs, DOB 07.12.1877
Birth Certificate No. 78/004454(? perhaps birth was registered late?)
(jeweller who later died of pneumonia fairly young)

Great Uncle Dick (Richard Alfred), 19 yrs, DOB 25.08.1875
Birth Certificate No. 75/003405
(Turner by trade, later in Queensland Railways)

Great Aunt Sis (Eliza), 21 yrs, DOB 18.05.1873
Birth Certificate No. 75/002812
(later a nurse, she married Bill Ferguson)

Brothers and sister of William Henry Hitchcock
These were the single members of their generation, William Henry and Charles were married by this time, W.H. in 1893, Charles in 1894.

Note uniform on Dick. The Boer War was in 1881 and again in 1899.

Photo: P. M. Walker, Doré Studios, Rockhampton.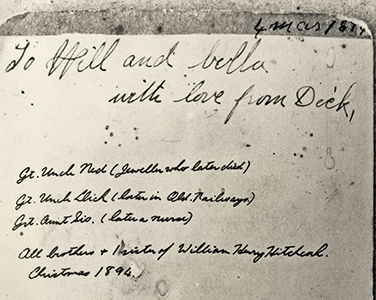 Writing on back by Dick, and later by Keith Hitchcock.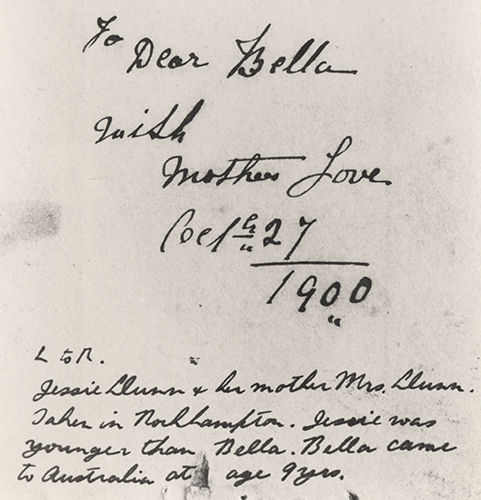 'To Dear Bella With Mothers Love Octbr 27 1900'

Taken in Rockhampton. Jessie appears to be wearing a corset, which would have been normal at that time.

Jessie was Bella's younger sister - looks about 17. Jessie thus born about 1883, in Rockhampton (?)

Mrs Dunn looks about 50, thus born 1850 (?)

Bella came out to Australia from Scotland at age 9 years. Bella born 1872 (?) came out in 1881 (?)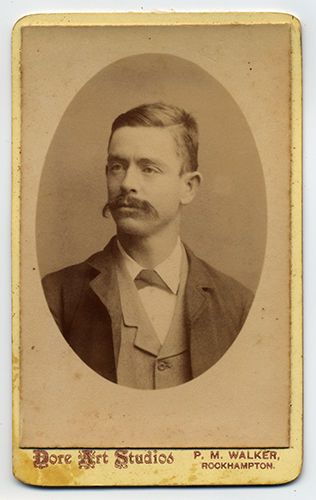 1900?

Great Uncle Dick (Richard Alfred)

Born 25.08.1875 #75/003405

Studio Carte de Visite type.

Playing card size.

In 1899 he lived with his father at Bolsover St between Archer and Cambridge Streets, Occupation Turner (Electoral Roll district of Rockhampton 03.07.1899)

Photo: Dore Art Studios, P. M. Walker, Rockhampton.

Note that the original Doré Art Studios had dropped the e acute in their name by this time, compared with the 1894 photo of Ned, Dick and Sis.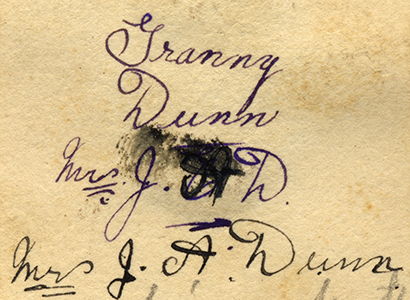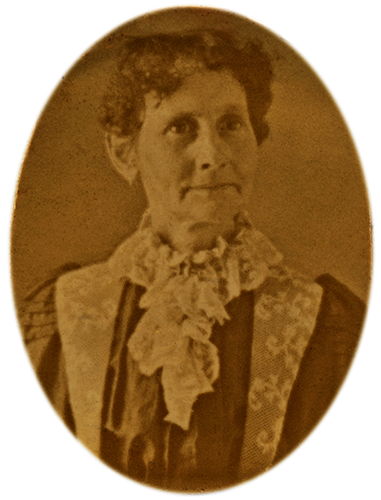 Granny Dunn 1907?

Mrs John A. Dunn (nee Jessie Ann Wright)

Migrated to Australia from Scotland about 1882, with her husband and children Bessie, Jessie, and a son.

Hazel: "Jessie and Bella had a brother, and he lived in Rockhampton at one time."

Madge's Grandmother Dunn.

Inscription in purple ink:

'Granny Dunn

Mrs J. A. Dunn'

Looks like the same print run as Kenneth Ray 1907 and same handwriting - William Henry Hitchcock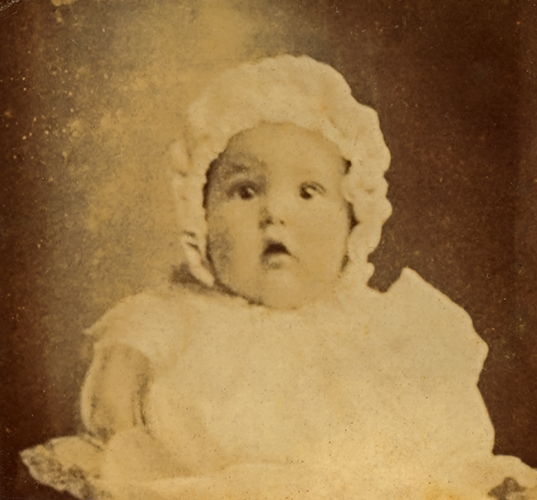 Inscription in purple ink: 'Kenneth Ray 1907'

This would have been a flash photograph, using magnesium powder ignited in a holder. A lovely surprised expression. The only way at the time to get a photo of a lively baby who could not be expected to sit still for long.

But Kenneth Ray who? A friend of the family? A Hitchcock?

Looks like the same print run as, and same handwriting as the Granny Dunn photo - William Henry Hitchcock.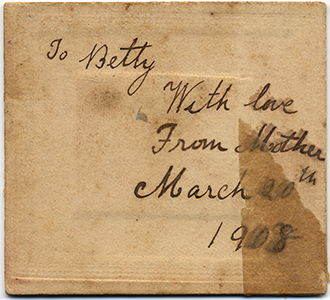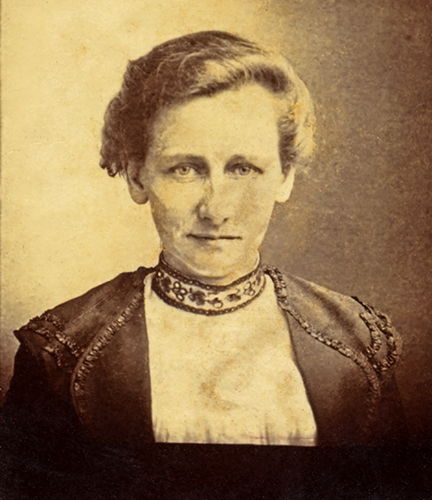 Bella, 20.03.1908

Inscription: 'To Betty with love from Mother March 20th 1908'

This photograph was taken when Bella was 5 months pregnant with Teddy.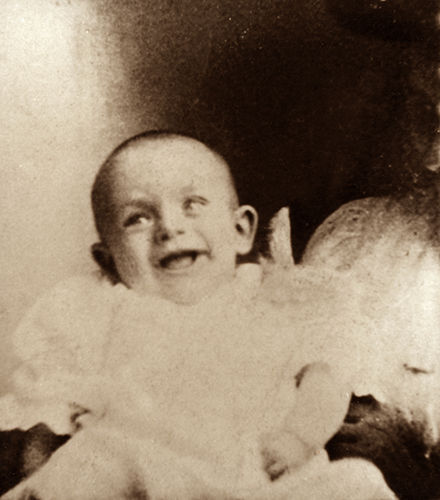 Earliest photo of Teddy, four months old.

Probably 20.12.1908

DOB 29.08.1908

This would have been a flash photograph, using magnesium or similar powder ignited in a holder. Many of this group of small format photos were taken at Christmas. Almost certainly the same photo session as the Daisy and Betty photo below.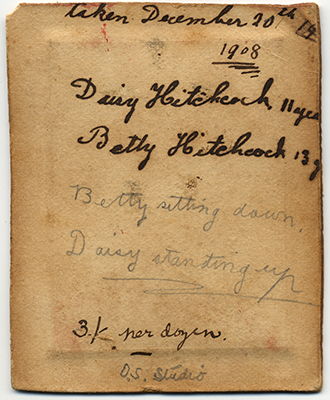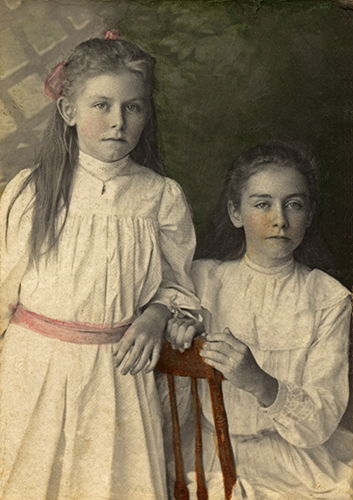 20.12.1908

Inscription:

'Taken December 20th 1908 Daisy Hitchcock 11 yrs Betty Hitchcock 13 yrs (Betty's writing?)

Betty sitting down. Daisy standing up (Daisy's writing?)

3/- per dozen D.S. Studio'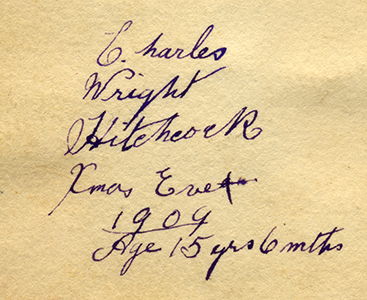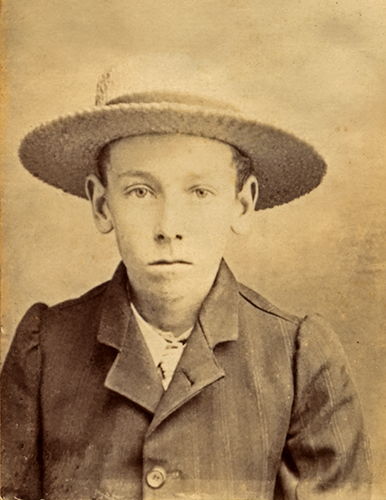 24.12.1909

Inscription: 'Charles Wright Hitchcock Xmas Eve 1909 age 15 years 6 months'

Purple ink - William Henry's writing.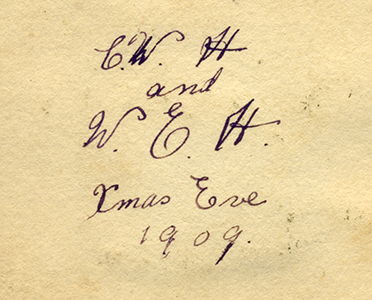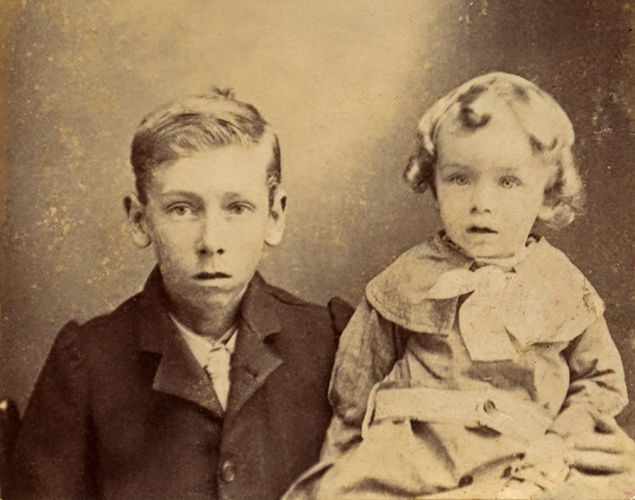 24.12.1909

Inscription: 'C.W.H. and W.E.H. Xmas Eve 1909'

Purple ink - William Henry's writing.

Charles Wright Hitchcock and William Edward (Ted) Hitchcock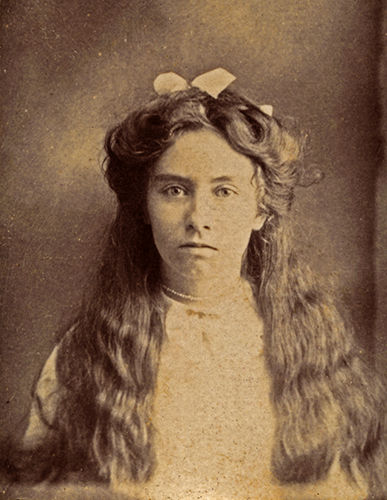 Betty, Christmas 1910, age 15, DOB 1895.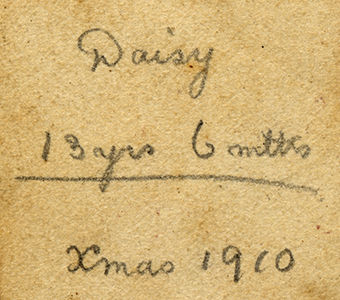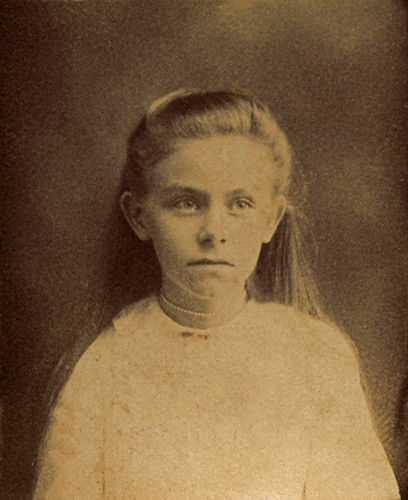 Daisy, Christmas 1910, aged 13 years 6 months, DOB 1897, looks like Bella's handwriting.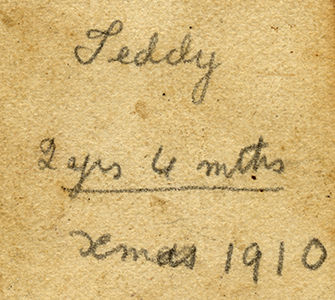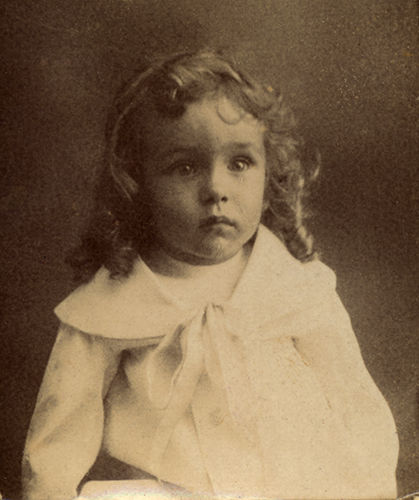 Teddy, two years four months, Christmas 1910, looks like Bella's handwriting.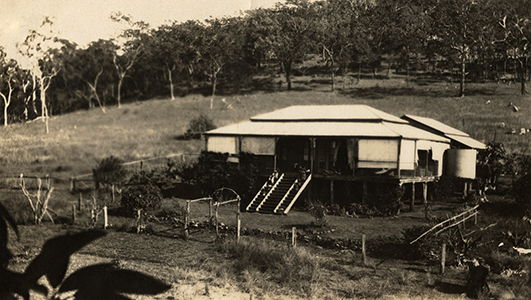 1915?

'Fern Hill' Tungamull (later Tarabah)

Charles William Hitchcock's home.

Taken from one of the (by this time large) mango trees which lined the drive. Child on verandah. Note bee hives in background.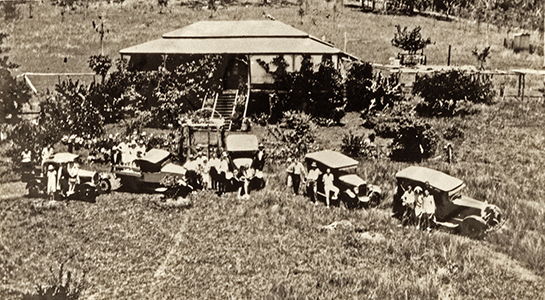 1920s?

This photo also taken from a mango tree, at a later date than the above. Note the trees and vines have grown. Cars appear to be mid 1920s. Camera shake evident. Covered walk to right - toilet?

Madge's father took the buggy up the back where horses could graze when they visited. Car second from right is a 1924 Overland with a curved apron and transverse front spring. On the extreme left is a T model Ford cut down to a utility.