Danube / Donau River at Kelheim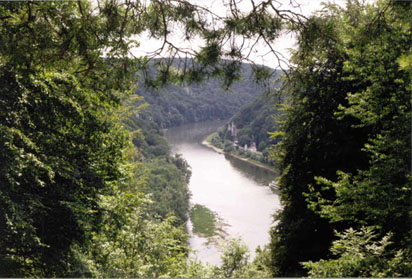 Taken just to the east of Kelheim, between Regensberg and Ulm
Photo: Per 1998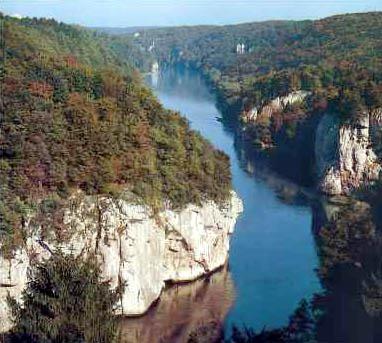 Donaudurchbruch, the 'Donau Aperture'
between Kelheim and Weltenburg in the national park Altmuehl valley


On the gravel-covered banks of the river there are a number of fishing-boats lying at anchor. Their prows enterprisingly point to the middle of the river. A little downstream there is a shining motor-boat.
You may embark where you like. Very slowly the boat begins to move and swims to where the river narrows. The boatman perfectly handles the long pole of his punt, the helmsman steers the boat over the
whirlpools
. It is a pity you can't see the fish in the depths: carp, pike, huck, trout, perch-pike, tench, barbel, eel, grig, whitebait, grayling, umber, whiting, dace, roach. But you can watch what is flying over the water or lingering on the banks: the seesawing wagtail, the scolding kingfisher, the hovering buzzard, the dashing seagull.
When we come near the narrows, the boatsman tells about the rock formations which have been shaped by wind and weather in the course of many millenia. These rocks have been given funny names by waggish, humorous people.
The "kitchen rock" is like a perpendicular wall rising from the water. The "Bavarian Lion" is incessantly staring upstream. When the boat moves along, you can see the "bishop's mitre" the "kissing pair", the "uncouth man" who turns his back on you and on the river, and then the "Roman's rock". Here the story goes that the Romans had spanned a leather bridge across the river. After that we come to the "silent wall" and "long wall", where the river bends off to the left and makes you believe it is a gorge and gully with no way out.
Photo and text: http://www.altmuehltal.de/kelheim/donau-e.htm
---