Cycling from Amsterdam to Copenhagen
| Day 1 | Day 2 | Day 3 | Day 4 | Day 5 | Day 6 | Day 7 | Day 8 | Day 9 | Day 10 | Day 11 | Day 12 | Day 13 | Day 14 | Day 15 |
Day 2, 13th June 2014
Wijk aan Zee - Castricum aan Zee - Egmond aan den Hoef - Alkmaar - Oterleek - Avenhorn - Hoorn

52 km (82 km from the start)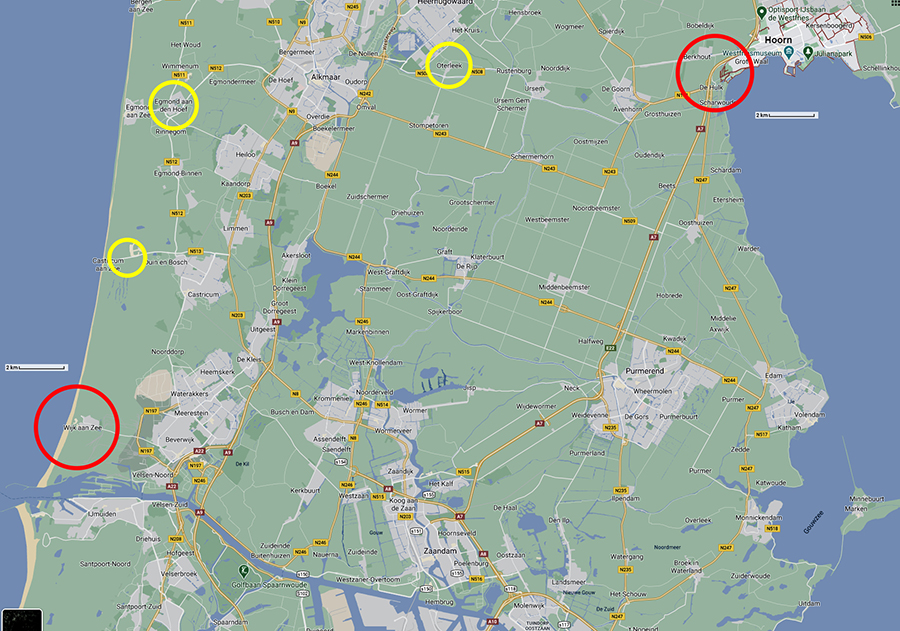 From Wijk aan Zee to Hoorn

Photo: Google maps



| Day 1 | Day 2 | Day 3 | Day 4 | Day 5 | Day 6 | Day 7 | Day 8 | Day 9 | Day 10 | Day 11 | Day 12 | Day 13 | Day 14 | Day 15 |
From Maria's Diary:
Wijk aan Zee to Hoorn

We were up early and on the road by 0700. We found the Radweg and followed it north through dunes and patches of forest. At one point we were surprised by some of the local long horned cattle. The North Sea route LF1 goes over dunes with short rises and downhill runs. The surface is magnificent - pavers most of the way. Unfortunately the serious cyclists use it as a training circuit and they scream past at a great rate of knots. When this is combined with motorised scooters and the odd car - the track wasn't as tranquil as we'd expected.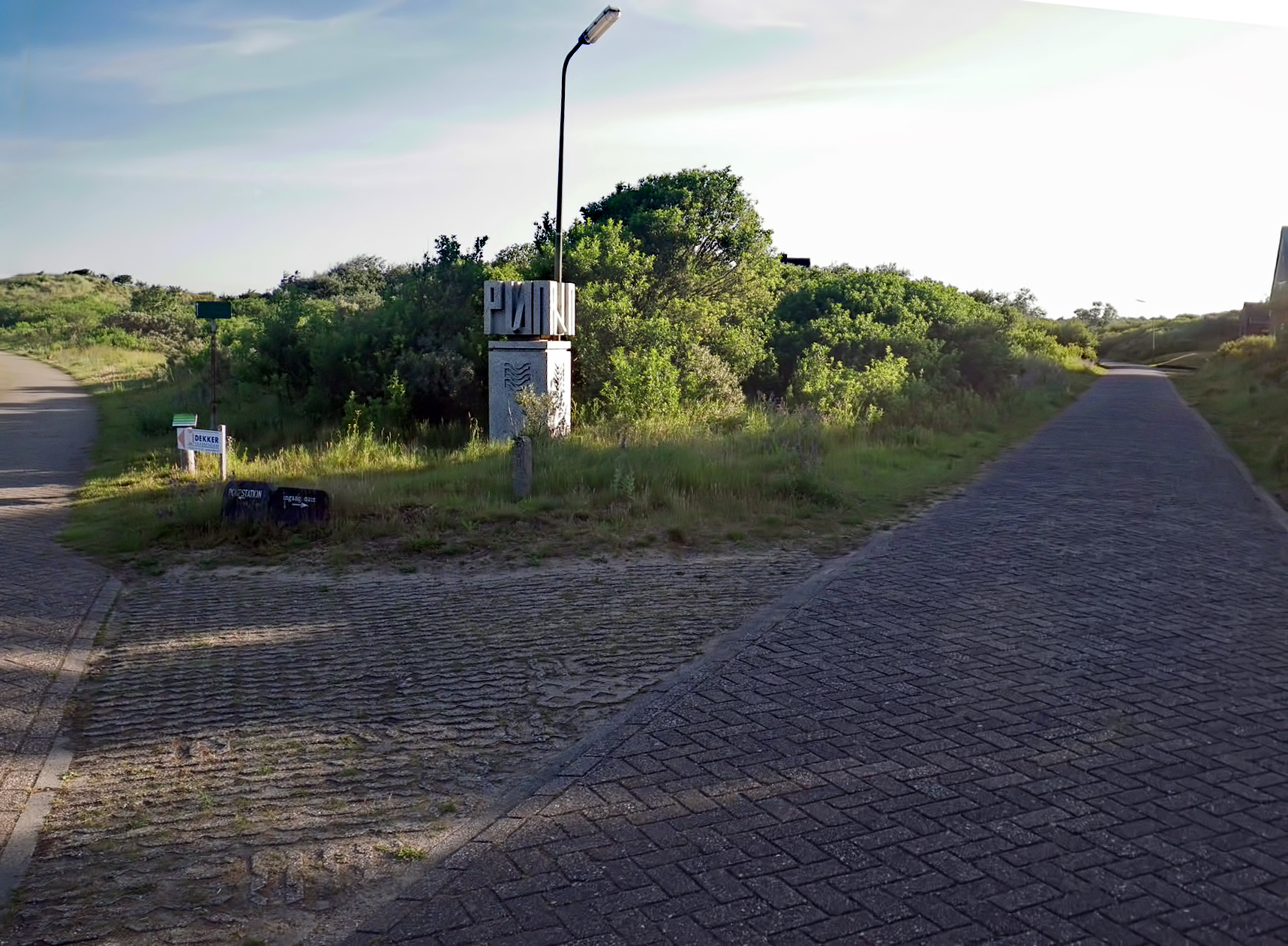 On the fietspad, or radweg, or bicycle path, at 0723h. We went to the right, up the hill.

Despite what we had thought we would find throughout the Netherlands, this section of the radweg turned out to be an up and down ride, as it crosses dune after dune.
The curious cement block has the stylised letters PWN on it, PWN being the drinking water authority for the entire dunes area, which is a vital part of the potable water supply for nearly two million people in this section of the Netherlands.

Photo: Don & Maria Hitchcock 0723h 13th June 2014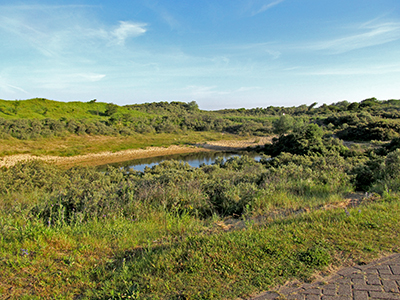 This is known as dune water. Rain falls on the whole coastal area of the Netherlands, as it does everywhere else, of course, but in this case it floats on top of the salt water which infiltrates at depth from the North Sea.

Dune water is one of the main sources of fresh drinking water in the Netherlands, and has been since it was first tapped in 1851.
In 1957 when it was realised that the resource was being overutilised, resulting in a drop in the water table, fresh river water was pumped into the system, purified by the sand, and then pumped back to be used by the population.

In 1975 the river water was purified by ozone and charcoal before being pumped into the dune water system. The Netherlands has some of the purest municipal water in the world.

Photo: Don & Maria Hitchcock 0728h 13th June 2014
Additional text: Wikipedia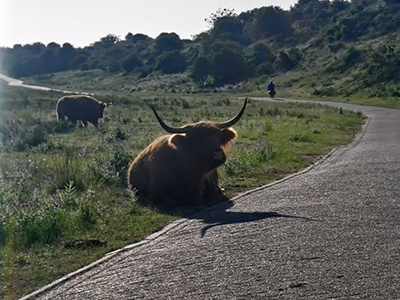 Scottish Highland cattle, at home here in the dunes of the Netherlands, descend from the Hamitic Longhorn, which were brought to Britain by Neolithic farmers in the second millennium BC, as the cattle migrated northwards through Africa and Europe. Highland cattle were historically of great importance to the British economy, with the cattle being raised for meat primarily, and sold in England.
The Highland cattle on the dunes of north Holland were brought in by a Dutch water company to help prevent the dunes becoming overgrown.

Photo: Don & Maria Hitchcock 0730h 13th June 2014
Additional text: Wikipedia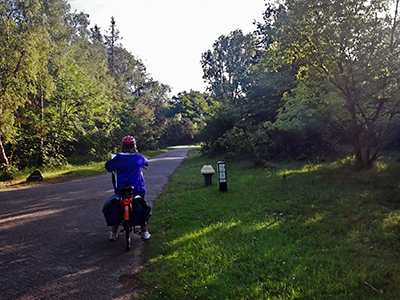 Checking the map at a track junction at 0739h.

Navigation was difficult throughout our time in Holland. Cycling maps in the Netherlands use a different system, and it takes time to get used to, and to interpret correctly. It works on a system of nodes, and the distance to them. Without maps which use this system, (we had ordinary tourist road maps at this time) making sense of most of the distances and names and numbers on the signs was almost impossible.
In addition, the system is geared to a very localised network, and since we were headed for Denmark, travelling fairly large relative distances each day, moving from one district to another several times in a day, this small scale mapping system was even more difficult to use. We would have needed five 1:50 000 large paper maps to follow the radweg system just for this one day from Wijk aan Zee to Hoorn.

Later in Germany and Denmark we were able to use ordinary road maps throughout, with road and radweg signs which were geared to that, which made navigation very much easier.

Photo: Don & Maria Hitchcock 0739h 13th June 2014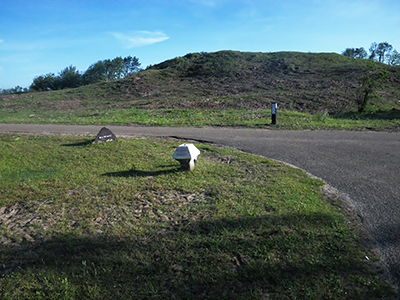 This cycle path junction was typical of the genre, and the signs gave us no useful information. We finished up using the tourist map we had of ordinary roads, as well as the magnetic compass I always wear on the wristband of my waterproof watch, the general lie of the land, and common sense.

Better still, I am the luckiest person I know, and my luck held good throughout our time on the trip!

Photo: Don & Maria Hitchcock 0752h 13th June 2014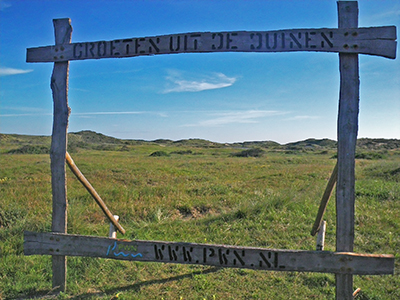 This 'picture frame'was put up by the drinking water company PWN, which manages the whole dune system for potable water to 1.7 million customers, who use 112 billion litres of water annually.

The rustic wooden structure was put up so that visitors can take selfies with the dunes in the background, and it reads 'Groeten uit die duinen' - Greetings from the dunes. The resulting photos can be sent for publication to the PWN site.
PWN purify surface water into drinking water, in Andijk, Heemskerk and in the dune area itself. The North Holland dunes are indispensable as part of the drinking water supply in the area. As a dune manager, PWN ensures that the dunes remain healthy and that they are careful with the wealth of flora and fauna in the dunes. 45% of all water from PWN is purified in the North Holland dunes. In addition, the dunes serve as a reserve source.

Photo: Don & Maria Hitchcock 0806h 13th June 2014
Text: https://www.pwn.nl/over-pwn

The view of the dune system through the 'picture frame'.

It is a little bit weird that we were travelling over what amounts to a vast reservoir of fresh water, on our bikes.

Photo: Don & Maria Hitchcock 0806h 13th June 2014
We rode up to this lookout, which gave a good view of the landscape. The industrial area and power station on the horizon in the right hand image was at Alkmaar.

The Alkmaar power station was built in 2006 as a biomass plant. In the beginning it burned mainly waste wood co-firing small quantities of, for example, compost material. However, the availability of waste wood is often limited and the market price has been steadily increasing over the years.

In Alkmaar the local biomass power plant has started to use sewage sludge originating from the sewage system of the region. The raw sewage sludge is dried and treated to the form of granulate, transported to the power station and burned into energy, and this source supplies 10% of the total fuel flow.

Photo: Don & Maria Hitchcock 0817h 13th June 2014
Text: https://kopargroup.wordpress.com/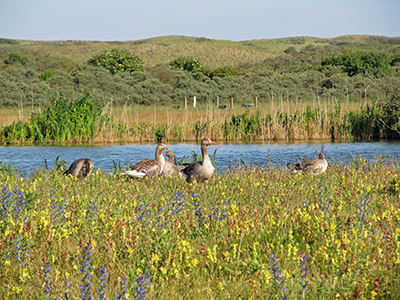 A family group of Greylag geese beside a dune lake. The area is a very important one for many plants and animals, including birds.
Greylag geese travel to their northerly breeding grounds in spring, nesting on moorlands, in marshes, around lakes and on coastal islands. They normally mate for life and nest on the ground among vegetation. A clutch of three to five eggs is laid; the female incubates the eggs and both parents defend and rear the young. The birds stay together as a family group, migrating southwards to the Mediterranean region and North Africa in autumn as part of a flock.

Photo: Don & Maria Hitchcock 0843h 13th June 2014
Additional text: Wikipedia

Greylag geese are largely herbivorous and feed chiefly on grasses.

Photo: Don & Maria Hitchcock 0844h 13th June 2014
Additional text: Wikipedia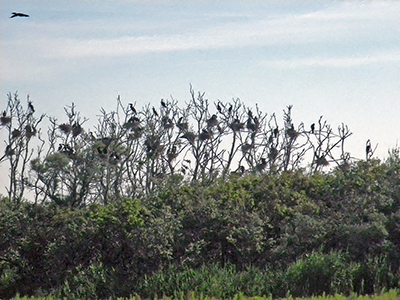 Heronry, possibly of grey herons.

Photo: Don & Maria Hitchcock 0845h 13th June 2014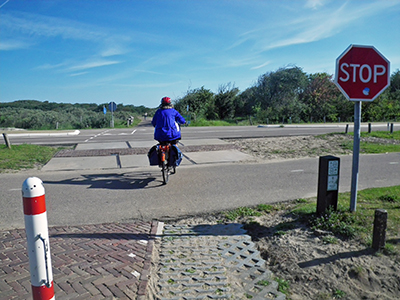 Crossing the highway to Castricum aan Zee.

We were following the long distance route known at that time as LF 10, but now renamed as LF Kustroute, or the Coastal Route.

Photo: Don & Maria Hitchcock 0901h 13th June 2014
Additional text: Wikipedia
Half an hour later, we met some more Scottish Highland Cattle.

I would assume that all these cattle have been neutered, so that numbers can be controlled, and so that their behaviour is more docile, which is important since they are in regular contact with humans, without fences to separate them. Replacement stocks can be obtained as necessary from Scotland.

Photo: Don & Maria Hitchcock 0933h 13th June 2014
From Maria's Diary:

We passed Castricum aan Zee and rode through more dune country. It was beginning to get quite boring and unnerving with all the traffic. I suggested we abandon the North Sea route and head east across country. We turned off at Egmond aan den Hoef and suddenly we had a hot tar surface, and it was flat for long stretches. The only rises were over bridges. We rode towards Alkmaar and started to look out for a coffee shop. My bottom was quite sore by this stage and I was slowing down. We ended up having lunch at the cafee then headed in the direction of Hoorn.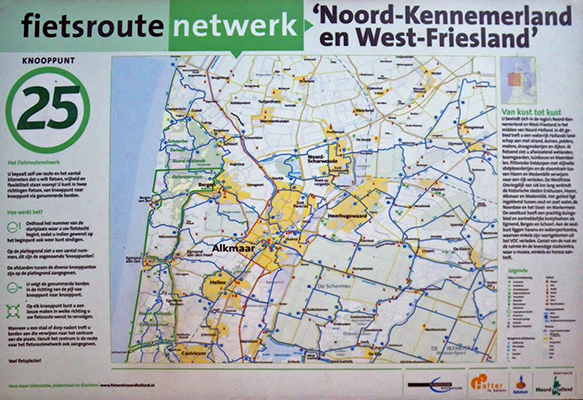 We were always glad to come across a map of the area to work out where we were, and we turned off here at Egmond aan den Hoef towards Alkmaar. The road surface was good.

Photo: Don & Maria Hitchcock 0937h 13th June 2014
House roofs in the Alkmaar region are commonly finished with this combination of thatch and tiles. The outline of the tile/thatch boundary is a tribute to the shape of the facades of Mediaeval Dutch houses. The style was notably used by the early Dutch settlers in the colony at Cape Town, and is known there as Cape Dutch architecture.

Note also a common feature in both Germany and Holland of private lands being in perfect, manicured condition, while public lands such as median strips are often left to grow wild. No doubt it can be justified on ecological grounds, but it was strange to us coming from Australia, where local councils are expected to keep such verges mown and looked after in municipal environments such as this.

Photo: Don & Maria Hitchcock 1013h - 1037h 13th June 2014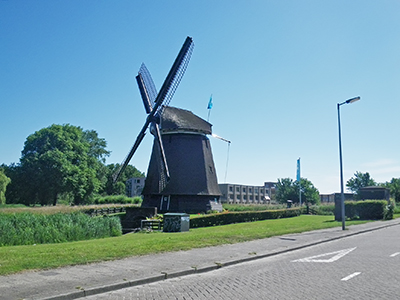 Windmills in the Netherlands are kept in immaculate condition, even though they are no longer used for pumping water or grinding grain. If required for an exhibition of working windmills, the sails may be covered with cloth.
Of the 10 000 windmills in use in the Netherlands around 1850, about 1 000 are still standing. Most of these are being run by volunteers, though some grist mills are still operating commercially. Many of the drainage mills have been appointed as backup to the modern pumping stations.

Photo: Don & Maria Hitchcock 1106h 13th June 2014
Additional text: Wikipedia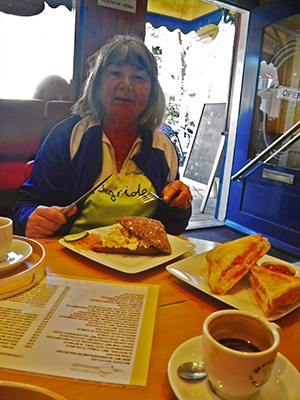 We were glad to have an early lunch and coffee on the outskirts of Alkmaar.

Photo: Don & Maria Hitchcock 1142h 13th June 2014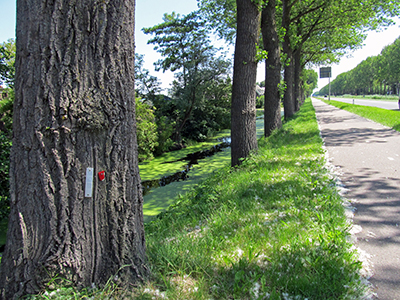 On the road again, we left Alkmaar and went towards Oterleek. It was obvious here that the water table is close to ground level. Most times the road had a ditch full of water beside it.

We were following the cycleway beside the road, which was a lot easier and more direct than the cycle network. Roads have been straightened and the grades flattened, and the cycle path itself was in excellent condition.

Photo: Don & Maria Hitchcock 1320h 13th June 2014
We came across a couple of windmills with a lot of activity going on around them, and realised that a group of volunteers had got one of the windmills going, by adding sails, for a demonstration to a coach group.

Photo: Don & Maria Hitchcock 1353h 13th June 2014
From Maria's Diary:

There is not much point in trying to follow the cycleways - just follow the highway - there are cycle paths on both sides. We skirted Alkmaar then came to Oterleek and continued along the highway stopping at regular intervals to relieve my bottom.

Finally we reached Avenhorn - we had another 6 km to go to the camping site, Camping 'T Venhop just before Hoorn. I wasn't sure I was going to make it but sheer grit won out.


A Grey Heron was searching for insects in the mown meadow, with sheep and cattle behind a small canal/ditch full of water. There was a fence on the other two sides of the triangular paddock. The small excavator with a bucket in the far part of the paddock was obviously for maintaining the ditch.

A little further on there was a small herd of what looked like Friesian cattle.

Photo: Don & Maria Hitchcock 1430h - 1434h 13th June 2014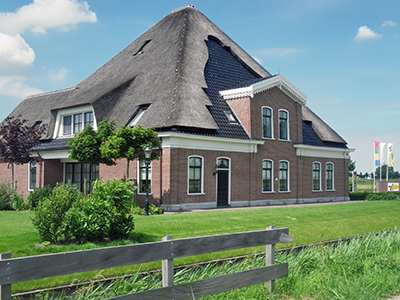 Another example of a thatched roof with part of the roof tiled.

Coming down the ridges are the small posts and wires of a lightning protection system. They must be very carefully designed and installed to provide good protection from fires started by lightning.

Photo: Don & Maria Hitchcock 1439h 13th June 2014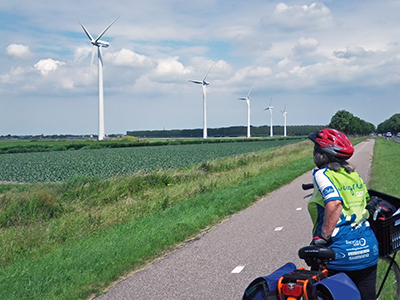 The Netherlands now has many modern windmills as well - but they produce electricity rather than pumping water or grinding grain.

Photo: Don & Maria Hitchcock 1508h 13th June 2014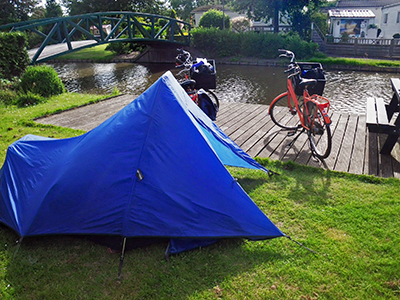 Two hours later, we got to "Camping 'T Venhop" just outside Hoorn, and set up the tent.
Campers in the Netherlands should realise that many campsites do not provide toilet paper or soap in their toilet blocks. When I complained, saying that it was a health risk, the owner said that children took the toilet rolls and spread them all over the place. I have no idea why Dutch children would do this in marked contrast to children in the rest of the world. In any case, there are plenty of secure methods for providing toilet paper and liquid soap, it is a solved problem.

Photo: Don & Maria Hitchcock 1749h 13th June 2014
From Maria's Diary:

The campsite was sheltered, with thick grass and right beside a small canal. We had a table and benches and some shrubs to dry clothes. The toilet block was modern but lacked toilet paper and soap which annoyed Don. Fortunately he found his supply of emergency toilet paper. Another cyclist set up nearby - we had a big chat.

Very tired tonight. Tomorrow we hope to get to Enthutzen by midday and catch the ferry to Stavoren.
Cycling from Amsterdam to Copenhagen
| Day 1 | Day 2 | Day 3 | Day 4 | Day 5 | Day 6 | Day 7 | Day 8 | Day 9 | Day 10 | Day 11 | Day 12 | Day 13 | Day 14 | Day 15 |
Day 2, 13th June 2014
Wijk aan Zee - Castricum aan Zee - Egmond aan den Hoef - Alkmaar - Oterleek - Avenhorn - Hoorn

52 km (82 km from the start)