Cycling from Amsterdam to Copenhagen
| Day 1 | Day 2 | Day 3 | Day 4 | Day 5 | Day 6 | Day 7 | Day 8 | Day 9 | Day 10 | Day 11 | Day 12 | Day 13 | Day 14 | Day 15 |
Day 7, 18th June 2014
Onstwedde - Vlagtwedde - Vriescheloo - Bellingwolde - Weener - Leer - Detern

63 km (355 km from the start)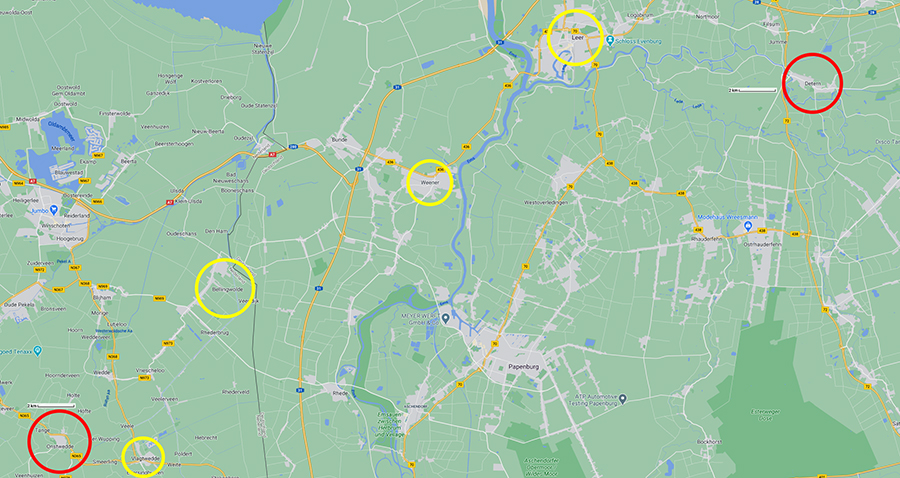 From Onstwedde to Detern

Photo: Google maps



| Day 1 | Day 2 | Day 3 | Day 4 | Day 5 | Day 6 | Day 7 | Day 8 | Day 9 | Day 10 | Day 11 | Day 12 | Day 13 | Day 14 | Day 15 |
From Maria's Diary:
Onstwedde

We left about 6.15 am this morning - a bit of a record. We headed towards Vlagtwedde then northeast and over the border into Germany

What a difference! There's a radweg beside every road shared with pedestrians. It was a cool misty day so no one was about. We rode towards Weener where we bought a map of Germany and some groceries and had the most amazing ice creams. I had a Black Forest Sundae while Don had a Banana Split! People are very helpful - along the way one fellow even gave us a map with the route marked to get us through Leer, on the other side of the Ems estuary.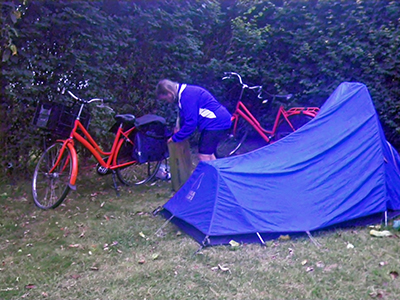 Packing up very early on Day 7. We got away at 0615h, eager to get started on the next leg of our journey. We were very practiced at putting up and pulling down the tent by this time, and the tent was very easy to set up and pack away.

Photo: Don & Maria Hitchcock 0550h 18th June 2014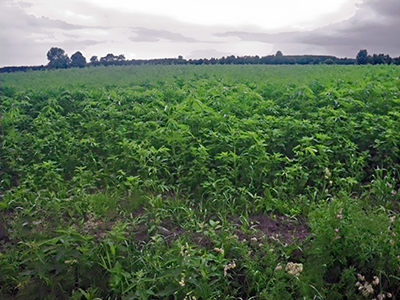 The most likely candidate for this commercial crop with a seven lobed leaf is the sweet potato, which can be grown, just, in the Netherlands, given the normally long growing season for the plant to reach maturity, though some varieties only take three months. The shape of the sweet potato leaf is highly variable depending on the cultivar. Some varieties do have a seven lobed leaf.

The only other possibilities I can think of are cannabis and cassava. It was illegal to grow cannabis in commercial quantities in the Netherlands in 2014, and cassava is overwhelmingly grown in tropical countries.

Photo: Don & Maria Hitchcock 0718h 18th June 2014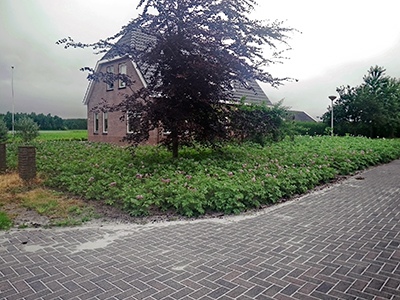 No mysteries here at least - the entire available yard of this house was planted in potatoes!

Photo: Don & Maria Hitchcock 0813h 18th June 2014
Sculpture, 'Hunger for corn'

A symbol of the agricultural past and the developments in agriculture of the village Vriescheloo.

Artist: Paul de Vos 1991, Groningen
Location: Dorpsstraat 115 9699 PG Vrieschelo
Photo: Don & Maria Hitchcock 0848h 18th June 2014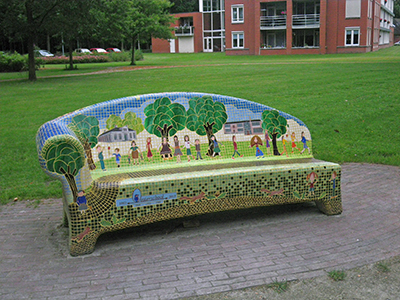 A delightful seat covered with mosaics in a very professional manner, at the OBS Oosterschool, a primary school at Bellingwolde NL.

Location: Hoofdweg 233 9695 AH Bellingwolde, NL.
Photo: Don & Maria Hitchcock 0943h 18th June 2014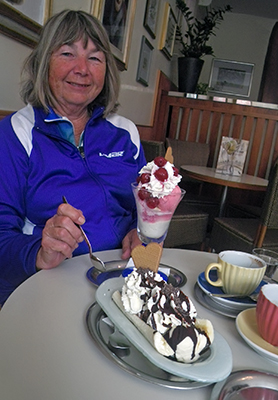 After leaving Bellingwolde we crossed the border into Germany, and in Weener we were able to celebrate another milestone!

I had a banana split, and Maria had a Black Forest Sundae - they were delicious and well earned!

Photo: Don & Maria Hitchcock 1250h 18th June 2014
I really liked this bridge over the River Ems. It was a good combination of old - excellent brickwork and piers by master craftspeople - and modern - the steel reinforced concrete beams.

This Jann Berghaus Bridge over the Ems in Leer in East Frisia is one of the largest bascule bridges in Western Europe. (Bascule meaning that there is a huge counterweight under the bridge to allow for the raising of the bridge 'hatch' to allow ships through).

It is now a double bascule bridge, with the second hatch being opened in 2010. The passage width is now 56 metres, to allow the passage of wider ships on their way to the North Sea.

The 'tower' which can be seen in these photos obscures a second tower. Together, these allow for machinery and control rooms to raise and lower the two hatches as necessary.

Photo: Don & Maria Hitchcock 1440h 18th June 2014
Additional text: Wikipedia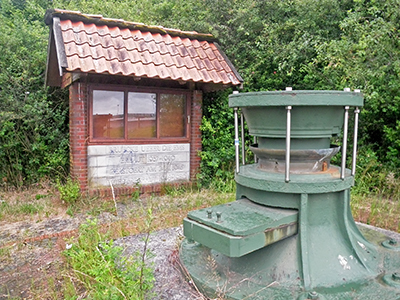 Close by we found the remains of the former swing bridge at this spot.
The memorial says, in part:

(Swing) Bridge over the Ems.
Built 1937 - 1940
Destroyed in 1945
Rebuilt 1948 - 1950

The bridge built between 1948 and 1950 was the largest swing bridge in the world when it opened. It was demolished in 1991 due to its dilapidation, and was replaced by the first section of the present bridge built in 1991. In 2010 the second part of the bridge was completed.

Photo: Don & Maria Hitchcock 1442h 18th June 2014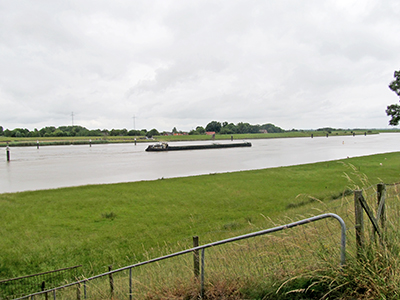 Canal boats are, in general, long (for speed, and for carrying a large cargo) low (to facilitate passing under bridges as necessary) and narrow (again for speed, and in addition they often have very little room to spare when passing between bridge pylons).

Photo: Don & Maria Hitchcock 1444h 18th June 2014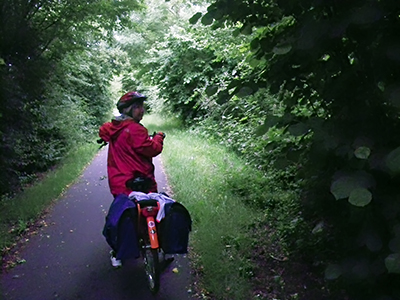 A few minutes later after crossing the bridge we were back on the cycleway, surrounded by forest vegetation.

We then had to just keep on cycling for nearly three hours straight, in order to reach Detern, where the next camp site was.

Photo: Don & Maria Hitchcock 1448h 18th June 2014
From Maria's Diary:
It was just as well we had those big ice creams at Weener though, because we missed lunch and rode and rode and rode for the next few hours to the next campsite at Detern, about 15 km past Leer. Camping places are few and far between. This one left a lot to be desired. First you had to ring the manager to come and check you in. The toilets have a key and no paper. You have to put 50 cents in the shower for hot water. Give us a break! Wifi was only €1 but was very haphazard. We arrived well after 5.00 pm and started dinner straight away.

The bottle of wine needed a corkscrew so we drank whisky and coke instead.

I researched a Youth Hostel and a campsite for tomorrow. Hopefully we'll get to one of them. Found out that I can use the maps app. to get details of the streets without the internet - handy.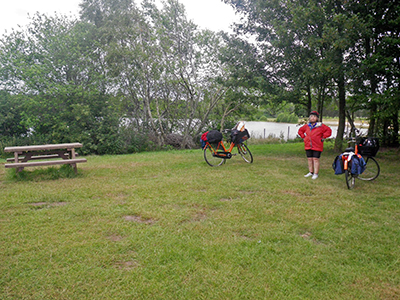 At camp. Not the best camping facilities on this trip in terms of toilets and showers, though we made it work, as always. At least the site itself was great, it was flat and grassy, a good view across water, wind protection from the trees around, and it had a bench and seats.

Even so, we hoped for better luck next time. Penny pinching campsite operators are their own worst enemies.

Photo: Don & Maria Hitchcock 1728h 18th June 2014
Cycling from Amsterdam to Copenhagen
| Day 1 | Day 2 | Day 3 | Day 4 | Day 5 | Day 6 | Day 7 | Day 8 | Day 9 | Day 10 | Day 11 | Day 12 | Day 13 | Day 14 | Day 15 |
Day 7, 18th June 2014
Onstwedde - Vlagtwedde - Vriescheloo - Bellingwolde - Weener - Leer - Detern

63 km (355 km from the start)